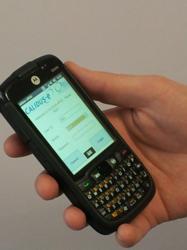 Electronic Proof of Delivery streamlines the delivery process, improves cash flow and increases customer satisfaction levels.
(PRWEB UK) 27 January 2012
OBS Logistics, leading provider of Transport Management Solutions, will showcase its electronic proof of delivery (ePOD) solution at upcoming exhibitions Commercial Vehicle (CV) Show and Logistics Link South. The CV Show is being held at the NEC, Birmingham on 24th – 26th April 2012 and Logistics Link South will be at Sandown Park, Esher, on 28th and 29th February 2012.
Part of the CALIDUS range of transport and warehouse management solutions, CALIDUS ePOD tracks delivery and collection journeys using mobile devices for electronic signature capture including bar-code scanning and photo capture. It eliminates paper-based tracking and streamlines the delivery process increasing both efficiency and customer satisfaction levels. By enabling faster invoicing it can improve cash-flow by reducing average payment turnaround by up to 10 days.
As part of an integrated Transport Management Solution, ePOD provides real-time delivery updates back to the operational system to monitor and track delivery runs and deal with any exceptions immediately, which can substantially improve the visibility across the supply chain allowing for improved customer service and more proactive transport management.
Dave Renshaw, CEO of OBS Logistics commented, "ePOD is proving to be a very popular choice among our customers and when implemented as part of a Transport Management System can improve efficiencies and produce real cost benefits"
For more information contact
Kathryn Howarth, Group Marketing Manager, OBS Logistics Ltd (part of the Anisa Group): kathryn(dot)howarth(at)anisagroup(dot)com, tel: +44 (0)151 448 2792
About OBS Logistics
OBS Logistics (OBSL), a member of the Anisa Group of companies, provides best of breed IT solutions including hosted solutions for managing supply chain operations. The CALIDUS Warehouse Management and Transport Management solutions are used by leading supply chain and transportation companies to deploy lean enterprise concepts, control costs, manage projects, increase efficiencies and measure their performance. CALIDUS is in use around the world to automate and streamline the end-to-end business processes and provide true visibility across supply chain operations.
###