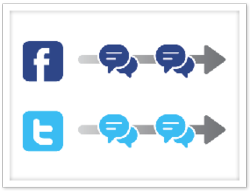 PRE is the latest tool that allows us to stay one step ahead of customer demands on Facebook and Twitter
London and New York City (PRWEB) January 26, 2012
Conversocial, a provider of social media tools for brands seeking to improve their customer service on Facebook and Twitter, announced today the launch of the latest automated prioritization system, the Priority Response Engine ™ (PRE), for use in social customer service. This new and updated version of the company's already award winning software-as-a-service (SaaS) is designed to increase the ability of brands to respond to customer comments in a timely manner and make existing customer service agents and CRM tools more productive by prioritizing tweets, wall posts, and comments.
According to Conversocial analysis conducted over the recently completed holiday season, of over 250,000 customer comments via social media, approximately 90% of posts on Facebook and Twitter can be processed automatically, while 10% are time sensitive and require an individually tailored response from a retailer's customer service agent.
In today's business environment, a post from a company – especially to drive marketing -- can receive thousands of comments from customers – often within minutes. PRE is specifically designed to identify explicit customer service issues frequently hidden in more general comments. Conversocial's prioritization software helps ensure that the most appropriate and immediate action is then taken and can also designate those items that require a lower priority.
As opposed to the traditional model for customer service software —where vendors raise a "ticket" for every comment or tweet posted—whether or not a response is required —Conversocial's PRE system prioritizes all comments based on necessity of response. Raising a ticket for every comment is not efficient for those companies with high volume social media activity, as not every message requires a response. Without a solution like PRE, agents are apt to waste valuable time working through thousands of tickets.
"PRE is the latest tool that allows us to stay one step ahead of customer demands on Facebook and Twitter," according to Jardel Appelt, Head of Social Media at Brandsclub, one of the largest e-commerce fashion company in Brazil. "We can now identify important issues quickly and deliver fast responses to our customers' queries. Without Conversocial, it would be much harder for us to stay on top of customer service in social media so efficiently, and many issues would likely be lost amongst general conversation."
In preparation for today's announcement, Conversocial conducted a review of comments received by the world's largest retailer, Walmart. In the run up to Christmas, Walmart published a question on their Facebook page asking their 11 million fans what they wanted from Santa Claus. That post generated over 5,500 comments in under 24 hours ranging from requests for new houses and cars to peace on earth and cures for various ailments. Amongst these comments were many genuine customer service questions and complaints Walmart failed to flag and respond. (See our blog post, that details the issue of marketing activities degrading customer service, entitled, "Needles in Haystacks: Trying to Identify Social Customer Issues Without the Right Tools")
"There's a social media paradox that on one hand companies are driving huge awareness to their Facebook pages and Twitter accounts through marketing campaigns, but on the other hand, customers use these same campaigns as direct customer service channels - whether the company intended it or not" said Joshua March, CEO of Conversocial. "Without a solution that enables customer service agents to identify real issues in social media and respond directly to customers quickly, its not only companies' reputations and competitiveness that will suffer, but customer frustration in the public domain snowballs and results in loss of sales and revenue."
Research commissioned by Conversocial and unveiled last month indicated that 88% of consumers are less likely to buy from companies who leave complaints on social media unanswered. The survey also indicated that 78% of consumers are likely to use social media for customer service issues.
In response to both research and experience gained from processing over 50 million customer interactions to date, Conversocial has launched its Priority Response Engine, which includes:

Customer Service Prioritization: Textual and social interaction analytics to automatically flag comments and tweets requiring immediate attention enabling social customer service agents to respond to customers faster.
Tagging: Comments and tweets can be instantly categorized; combined with sentiment tracking this allows deep insight into the type and level of conversations and enables marketing, customer service and product feedback teams to work effectively together.
Customer History: All social customer information, conversation history, connected tags and sentiment can now be viewed in one place by agents before responding, increasing the quality of service provided.
Facebook in Real-Time: Conversocial is the first social media management platform to integrate with Facebook's new API, which allows the tool to retrieve and filter Facebook comments and posts in real-time -allowing unprecedented customer service response time and brand protection.
Conversocial provides a completely free starter edition, designed for a single user to take immediate control of company Facebook pages and Twitter streams. Team and Enterprise editions are available to provide scalable, auditable, and secure processes across multiple agents and departments.
Headquartered in London, Conversocial is expanding into the American market and recently announced they have processed more than 50 million customer service interactions on social media, growing at a clip of 10 million per month. Companies and organizations such as Groupon, ITV, Ogilvy, Tupperware, and The University of Phoenix are using Conversocial and their Software-as-a-Service to manage the flow of customer service inquiries and discussions on Facebook and Twitter.
###