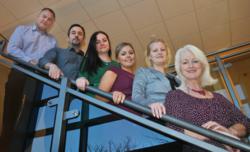 The business has grown exponentially in the last 12 months and it's great to have such a talented team and the support of Gary, to help drive it forward into new markets.
(PRWEB UK) 26 January 2012
Virtuoso Digital Marketing was conceived as a lifestyle business in 2000 operated by Maureen Storey, however, after a surge of new business in the last 12 months, the firm has now grown its team to six, with Maureen's husband Gary also joining as a director.
As Virtuoso continued to grow over the past decade, 2011 saw a shift in the services they offered as the business embraced the explosion of social media and developed an effective and professional process of working with clients to integrate various social media platforms into their marketing strategy.
The agency now works with several large North East based organisations offering fully integrated social media and digital marketing support, including touch screen maker Zytronic, motor group RMB Automotive and most recently the North East Ambulance Service (NEAS).
Alongside Maureen and Gary, and digital marketing manager Klara Capova, the company has just added three new team members to its workforce as it gears up for on-going expansion in 2012.
The expansion continued throughout the year as graphic and web designer Glenn Worthington joined the team with the full responsibility for web design and development at Virtuoso. He was closely followed by Joanne Hutchinson, a University of Sunderland graduate fulfilling the role as digital marketing assistant, managing client's social media platforms. Sarah Storey, meanwhile, has been recruited as a digital marketing apprentice through the North East Chamber of Commerce's (NECC) apprenticeship scheme.
Virtuoso now believes it is well positioned to offer full digital marketing services to large organisations, fulfilling the role of an in-house marketing department with full administrative and development support in all aspects of the client's marketing strategy, both on and off-line.
Additionally, with the vast market potential of social media, Virtuoso can offer companies of all sizes the support they require in design, planning and implementation of a successful social media marketing campaign.
Maureen comments on the recent expansion of Virtuoso: "The business has grown exponentially in the last 12 months and it's great to have such a talented team and the support of Gary, to help drive it forward into new markets.
"We are already looking to recruit two more people and are confident that we can continue with our expansion plans and provide employment for talented graduates and designers next year."
Gary joined the business after spending over 25 years working for blue chip firms in a number of senior corporate roles spanning the globe.
He adds: "Obviously Virtuoso has been very close to my heart since inception and lately there is so much buzz around social media and digital marketing that we thought the time was right for the business to expand and move forward, especially as this is where my experience is mainly based."
Virtuoso Digital Marketing offers a wide range of web design, digital and social media marketing and SEO services that enable businesses to improve their online performance focussing on expanding the business and increasing sales. For more information on the company please visit: http://www.virtuoso.uk.com.
###