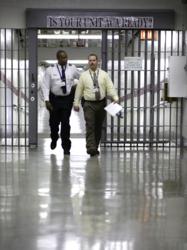 Nashville, TN (PRWEB) January 25, 2012
CCA, America's leader in partnership corrections, is proud of its record of maintaining safe and secure facilities. Extensive audits performed by examiners with the American Correctional Association (ACA) during the second half of 2011 confirm this, as fourteen CCA facilities were re-accredited with an average rating of 99.5 percent. Seven facilities received an impressive 'perfect score' of 100 percent.
"This marks the 9th consecutive year the average ACA score for CCA accredited facilities has exceeded 99%," said Don Murray, CCA Managing Director for Quality Assurance."In 2011, eleven facilities achieved a perfect 100% rating from ACA, which is an historic high for CCA in a single year."
The fourteen CCA correctional facilities achieving the high ratings from ACA audit teams in the 2nd half of 2011 include:
Bent County Correctional Facility, Colorado - 100%
Bridgeport Pre-Parole Transfer Facility, Texas - 100%
Lee Adjustment Center, Kentucky - 100%
Mineral Wells Pre-Parole Transfer Facility, Texas - 100%
North Fork Correctional Facility, Oklahoma - 100%
Saguaro Correctional Facility, Arizona - 100%
Tallahatchie County Correctional Facility, Mississippi - 100%
Metro-Davidson County Detention Facility, Tennessee - 99.5%
South Central Correctional Center, Tennessee - 99.5%
Whiteville Correctional Facility, Tennessee - 99.5%
Eden Detention Center, Texas - 98.8%
Silverdale Correctional Facility, Tennessee - 98.7%
Bartlett State Jail, Texas - 98.5%
Stewart Detention Center, Georgia - 98.4%
"As of today, a total of 19 CCA facilities have achieved 100% ratings during their most recent ACA audit," said Murray. "This represents roughly 30% of the company's operations."
Accreditation by ACA occurs once every three years, and presents facilities with the opportunity to demonstrate their strengths and commitment to high-quality operations. Currently, more than 93 percent of CCA's operating facilities are ACA-accredited, among the highest rates of similarly sized corrections systems.
About CCA
CCA is the nation's largest provider of partnership corrections to federal, state and local government, operating more than 60 facilities, including more than 40 company-owned facilities, with more than 90,000 beds, in 20 states and the District of Columbia. In addition to providing the residential services for inmates, CCA facilities offer rehabilitation and educational programs, including education, vocation, religious services, life skills and employment training and substance abuse treatment. For more information, visit: http://www.cca.com and http://www.ccacommunities.com.
###