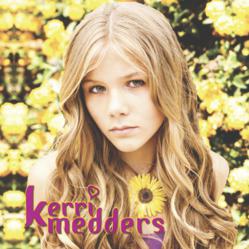 ...speculated that young Kerri might be on her way to one day becoming an entertainment mogul. She's certainly passionate enough about her career.
Los Angeles, CA (PRWEB) January 26, 2012
12yr. old Kerri Medders has worked hard to reach her dream of releasing her own album and January 31, 2012 her dream will come true.
Kerri is starting 2012 out with a bang with the release of her self-titled debut album. In 2011 she released 3 singles off the album, "Class Is Out", "This Is My Now" and "A Friend" plus music videos for all three can be seen on her YouTube Channel. The album features songs that Kerri feels strongly about but more importantly relates to which transfer to her fans.
The album features eleven songs that talk about friends, dreams, bullying and more. "This Is My Now" is a song about making dreams come true and Kerri has dedicated it to her dad for all of his support of her dreams. The jazzy vibe of "You Plus Me" is thanking the special people around her for always being supportive. On a more serious side Kerri addresses friendship, that no matter the distance between friends they can always reach each other because they are just a "Phone Call Away". To round out the album kids can't help but dance and sing to the fun lyrics in "Girls Want To Have Fun" & "Girl Time". The perfect song for when girlfriends get together and talk about their favorite things… boys, texting and of course shopping.
People would think that completing her debut album would be keeping Kerri busy enough. Not at all. Kerri loves to entertain and takes voice, guitar & dance lessons. In between acting auditions Kerri takes her love of storytelling and is currently writing a script for her second short film that she hopes to shoot in the next few months.
Kerri says that she loves music and film and can't imagine doing anything else. Get use to hearing the name Kerri Medders!!
Watch Kerri's Video EPK - http://www.Youtube.com/KerriCute18
Listen to a sampling of her Album here! KerriMedders.com/Music/
Website :: KerriMedders.com
Twitter.com/KerriMedders
YouTube.com/KerriCute18
Facebook.com/KerriMusic
Facebook.com/KerriMedders
ReverbNation.com/KerriMedders
Kerri Medders is represented by Taylor'd Productions - Brenda Taylor (Music Manager), Strong Management -Beverly Strong (Acting Manager), Paradigm Talent Agency - Wendi Green (Theatrical), Abrams Artist Agency – Jeremy Apody (Commercial), Ford Models (Print)
###