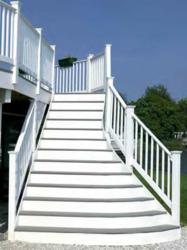 It is important to Parksite that we can offer the leading brand names in all areas of decking; and that includes railing, fasteners, and accessories. The RDI brand fully compliments that strategy

EGG HARBOR TOWNSHIP, NJ (PRWEB) January 27, 2012
Railing Dynamics, Inc. (RDI) is pleased to announce an agreement with Parksite, Inc. to distribute their complete line of products in four of Parksite's nine locations, including North Brunswick, NJ, Louisville, OH, Bolingbrook, IL, and Tampa, FL. RDI will supply the entire Endurance® family of products, Titan Pro® vinyl-clad metal railing systems, and the new pre-assembled Metal Works™ Excalibur railing system to Parksite. With Parksite's reputation for distributing superior products and their exceptional service, RDI feels Parksite to be an ideal partner, especially with both companies sharing similar corporate cultures and a dedication to the building material dealer, their builders, contractors and consumers.
"RDI is extremely excited over the establishment of this agreement with Parksite.", said Jay Penney, Director of Sales for Railing Dynamics, Inc. "Parksite's business model, forward thinking, and overall commitment to its customers and employees is so similar to our own approach to business, that this alliance is a perfect fit for us. We are confident that our products will be very well represented in the markets they are serving and we look forward to growing our businesses together."
Parksite is energized by the prospects that the RDI lines hold as well. "We feel that the RDI brand and product line-up provides tremendous value to the dealer, contractor and end user. The combination of those forces and the fact Parksite and RDI align philosophically make this a very exciting opportunity for us", commented Bob Higgins, Parksite's Director of National Sales. "It is important to Parksite that we can offer the leading brand names in all areas of decking; and that includes railing, fasteners, and accessories. The RDI brand fully compliments that strategy," Higgins continued.
Parksite is an employee owned company that provides a combination of direct sales, market development and progressive distribution services within the building materials supply chain. We recognize that each customer, manufacturer and product has unique requirements and we customize our services to meet those needs. Parksite defines its position in the supply chain by investing resources in activities that result in accelerated market acceptance of new products. More information about Parksite and its products are available at http://www.parksite.com.
Since 1989, Railing Dynamics, Inc. has been a leading manufacturer of low-maintenance building solutions. RDI's products include the Endurance® Original, Deck, Porch and ADA continuous handrail lines, Titan® vinyl-clad metal railing systems, and Metal Works pre-assembled, metal railing. The company's products are marketed through a nationwide network of preferred distributors, with support from RDI's national sales force and hands-on factory training. For more information on RDI, or to find your nearest distributor, call (877) 420-7245 or visit http://www.rdirail.com.
###