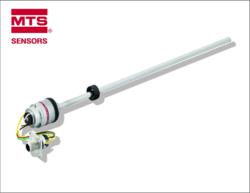 "The need for greater, more precise control across almost every component of modern construction, agricultural and mining vehicles is driving a market for smart cylinders that can fit in the tightest possible spaces"

- Haubold "Hub" vom Berg

(PRWEB) January 25, 2012
MTS Systems Corp. Sensors Division is launching a new marketing initiative around the company's compact Model MS sensor for mobile hydraulic applications. These sensors are designed specifically to fit into small cylinder packages used in compact applications that include steering systems, blade deck lifters and many others.
"The need for greater, more precise control across almost every component of modern construction, agricultural and mining vehicles is driving a market for smart cylinders that can fit in the tightest possible spaces," Haubold "Hub" vom Berg, technical marketing manager for mobile hydraulics at MTS Sensors, explained. "MTS Sensors offers a wide range of small to medium sized magnetostrictive sensors that meet those needs."
The Temposonics® Model MS sensor, which comes in a diameter of 28 mm, operates over the full temperature range required by mobile hydraulics applications (-40 to +221°F), and comes standard with a robust cable connection that is compatible with typical mobile equipment electrical connector requirements. This sensor generates an analog signal, which provides highly accurate and reliable cylinder position feedback for the life of the hydraulic cylinder. Rated for up to 100 g of shock and 15 g of vibration, the Model MS sensor is ideal in construction, agriculture, and other off-highway machinery. Along with the high shock and vibration ratings, the Model MS sensor features 100 V/m EMI protection and provides a measuring range of 50 to 2,000 mm (1.97" to 78.7").
"Our ongoing goal is to design the products that equipment OEM's need to meet their design and safety standards," vom Berg said. "These compact cylinders give them more options while ensuring the highest possible performance and durability."
For more information on MTS Sensors, please contact: MTS Sensors Division, 3001 Sheldon Drive, Cary, NC 27513. Phone: (919) 677-2370. E-mail: Hub.vomBerg(at)mts(dot)com or visit http://www.mtssensors.com.
MTS Sensors, a division of MTS Systems Corp., is the global leader in the development and production of magnetostrictive linear-position and liquid-level sensors. The Sensors Division is continually developing new ways to apply magnetostrictive sensing technology to solve critical applications in a variety of markets around the world. With facilities in the U.S., Germany, Japan and China, MTS Sensors Division is an ISO 9001-2008 certified supplier committed to providing worldwide innovative sensing solutions.
###