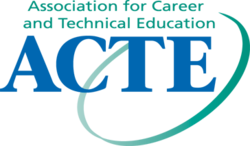 Alexandria, VA (PRWEB) January 25, 2012
The Association for Career and Technical Education (ACTE), National Association of State Directors of Career Technical Education Consortium (NASDCTEc), and Career and Technical Student Organizations (CTSOs) will celebrate CTE Month in February, highlighting the impact of career and technical education (CTE) on student success, workforce development and the economy across the country and advocating for an increased CTE presence in secondary and post-secondary programs to ensure American economic prosperity.
During February's CTE Month, CTE programs and CTSOs across the country host a variety of events showcasing their programs and students' successes to their community, policymakers and business leaders. This year's theme is Careers through Education, emphasizing that CTE creates career pathways and teaches vital employability skills that employers are seeking in a 21st century workforce.
As the American economy recovers, the role of CTE is critically important. In a recent report "Help Wanted: Projections of Jobs and Education Requirements through 2018" published by the Georgetown University Center on Education and the Workforce, data shows that Americans will need at least 4.7 million new workers with postsecondary certificates. CTE programs in both secondary and post-secondary provide a large portion of needed credentials and ensure the American workforce is prepared to fill the evolving needs of business and industry. Overall, the demand for workers with postsecondary education, including associates' degrees and postsecondary certificates that can be obtained through CTE, will jump from 59% of all jobs to 63% by 2018.
As part of the CTE Month activities, ACTE is hosting a Social Media Advocacy Day on Thursday, February 23. Educators, students and business leaders will write blogs, share the 2012 PSA and advocate for CTE through Twitter, Facebook, and other social networks to raise awareness about CTE with policymakers and community. Educators will update their statuses with information about CTE and highlight CTE's impact in their community.
As the Administration works on the Fiscal Year 2013 budget, ACTE, NASDCTEc, and CTSOs want policymakers, education leaders and parents to understand the critical need for more funding to support and further CTE programs. CTE plays a critical role in educating America's future workforce, preparing students to be college- and career-ready and improving the United State's economy.
Other CTE Month activities include Job Shadow Day, Cliff Weiss essay contest, school visits, and advocacy days with state and federal policymakers. For more information on CTE Month and the activities ACTE, NASDCTEc and the CTSOs are hosting, please visit http://www.acteonline.org/ctemonth.aspx.
For more information about CTSO's, NASDCTEc and ACTE, please visit:
Business Professionals of America: http://www.bpa.org
DECA Inc.: http://www.deca.org
Family, Career and Community Leaders of America: http://www.fcclainc.org
Future Business Leaders of America-Phi Beta Lambda: http://www.fbla-pbl.org
Future Educators Association: http://www.futureeducators.org
HOSA- Future Health Professionals: http://www.hosa.org
The National FFA Organization: http://www.ffa.org
National Postsecondary Agricultural Student Organization (PAS): http://www.nationalpas.org/
SkillsUSA: http://www.SkillsUSA.org
Technology Student Association: http://www.tsaweb.org
National Association of State Directors of Career Technical Education Consortium: http://www.careertech.org
Association for Career and Technical Education: http://www.acteonline.org.
# # #