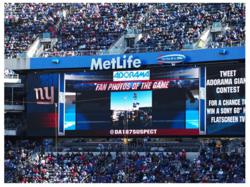 To celebrate the New York Giants' success, Adorama, its Official Electronics Retailer, is giving away a 60-inch Samsung TV.
New York, NY (PRWEB) January 26, 2012
For the second time in four years, the New York Giants are headed to football's legendary pinnacle, the Super Bowl. The team's Official Electronics Retailer, Adorama, is celebrating its exciting, sudden-death victory over the San Francisco 49ers with special promotions—including a contest to give away a big-screen TV on which the winner will watch the 2012 Super Bowl.
Cohosted by Samsung Electronics America, the in-store contest will award a Samsung 60-inch HD Flatscreen TV to one lucky winner. The state-of-the-art television will be installed at the winner's home in time for the Super Bowl on February 5. And that's not all. The contest's sponsors will cater a party for 20 people at the winner's home!
As the Giants gear up for yet another chance to prove that they're America's greatest football team, there will be plenty of rewards for other Adorama customers. The New York Giants' Official Electronics Retailer will be featuring numerous special, limited-time deals, both at its New York City superstore and online at Adorama.com, continuing through game day.
Since the Giants' winning season began, Adorama has offered the team's fans deep discounts on top electronics and photo equipment. The New York City-based retailer has also hosted game-time events such as the fan photograph of the week, displayed on MetLife Stadium's video boards, plus TV and radio promotions in partnership with some of the world's top consumer electronics manufacturers.
This season was the first in a multi-year partnership recently entered into by the New York Giants and Adorama. "We're thrilled with the attention our partnership has brought the store," says Brian Green, Adorama's Vice President of Marketing. "We want to congratulate the NFC champs and thank them for making this a winning season for all of us."
Adorama, a well-known and respected photography retailer for over 30 years, has grown with the imaging industry over the past years to offer the widest array of consumer and professional electronics available.
About Adorama
As one of the nation's largest electronics retail and mail order suppliers, Adorama has served its customers' technology and photographic needs for 33 years. It has recently expanded its service to include online photo education (the Adorama Learning Center and Adorama TV) and on-site workshops, programs that make it a unique customer resource. Adorama's vast product offerings now encompass home entertainment, mobile computing, and professional audio, while its services include an in-house photo lab (AdoramaPix) and pro equipment rental (Adorama Rental Company), supported by knowledgeable staff and unbeatable pricing. Adorama is more than a camera store—it's a one-stop shop for all your imaging, photo and technology needs. Visit Adorama.com.
About the New York Football Giants
A cornerstone franchise of the National Football League, the New York Football Giants began play in 1925. With seven championships, including a victory over the 18-0 New England Patriots in Super Bowl XLII at the conclusion of the 2007 season, and with more than 600 victories, the Giants are considered one of sports' all-time great franchises. Headquartered at the TIMEX Performance Center in East Rutherford, N.J., the Giants enter their 87th season this fall.
###