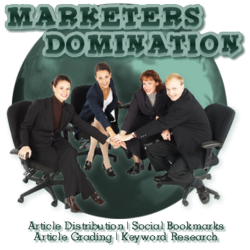 Article Distribution, niche Keyword Research and Social Posting network for marketing articles. Built in online marketing tools for all your marketing needs to increase traffic and search engine rankings.
New York, NY (PRWEB) January 27, 2012
MarketersDomination.com is a new online marketing tools website that focuses on bringing its members exclusive online tools to an ever changing and growing internet marketing industry. Being on the front lines, MarketersDomination.com keeps abreast of the latest search engine changes in order to incorporate and implement an exclusive suite of tools that help authors and content writers grow their business.
Bringing brand new technology with an exclusive suite of article marketing tools has set MarketersDomination.com apart from other services. The content scanner is the only article tool in existence that grades your content using the Flesch-Kincaid test for readability, analyzes your keyword density, shows you all stop words, and helps you improve your overall writing abilities. The language analyzer is an exclusive online software tool that helps you identify the correct synonyms, acronyms, and other related words that you should apply to your content.
In an effort to help content writers and authors create and distribute higher quality content, MarketersDomination.com has developed these exclusive article marketing tools. Our goal is to help writers provide better content to the search engines, while helping them expand and increase their business.
One common method in article marketing is the mass submission of articles to article directories. Marketers Domination has implemented a vast network of private websites for members to execute distribution of their articles. The benefits of this network are that all sites are ad-free and built with search engine optimization with enhancing rankings in mind.
Other software tools such as niche keyword research, social posting, and comment posting gives even greater benefits to members. With a wide range of exclusive online marketing tools, members will be able to do all their article marketing from one website.
###