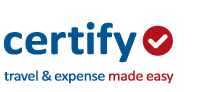 Certify's integration with TripCase makes that last-mile connection, bringing this information right where the traveler needs it, when they need it."
Portland, ME (PRWEB) January 26, 2012
Certify, a leading online travel and expense management company, today announced its partnership and integration with TripCase, a travel management app powered by Sabre, providing travelers mobile access to active travel itineraries.
In early January, Certify launched its integrated travel booking service, allowing users to book flights, hotels and rental vehicles while automating the expense reporting process. The travel booking solution, Certify Travel, came as an extension to Certify's industry leading expense reporting SaaS based system, working to simplify the business professional's travel and expense management processes.
As an extension to the new travel booking service, Certify has integrated the TripCase mobile application to provide mobile access to travel itineraries while in the midst of traveling. Certify's travel booking solution allows business professionals to book travel, automate an expense report from the travel itinerary, all while remaining within compliance of company T&E policies. While this solution offers a robust business travel solution, having an integrated travel management application such as TripCase, rounds out the travel experience.
"Our integration with TripCase rounds out Certify Travel nicely, making it easy to get mobile access to your itinerary. Business travelers know that mobile access is critical," said Robert Neveu, President of Certify. "They require fast, simple access to their travel itineraries while making way through airports, taxicabs, rental cars, hotels, and other situations in which Internet connectivity can be a challenge. Certify's integration with TripCase makes that last-mile connection, bringing this information right where the traveler needs it, when they need it."
TripCase, a leading travel management application, has made traveling easier by providing a mobile app where travelers can manage all aspects of travel while on the go. The application is available for iPhone, Blackberry, and Android platforms, and allows travelers to view itinerary details, see alternate flight schedules, as well as stay up-to-date with flight status, delays and cancellations along with many other travel-friendly features.
The registration and download pages for the TripCase mobile application for Certify users can be accessed through users' Certify account homepage within the travel tab.
About TripCase®
TripCase is a one-stop web and mobile traveler services platform that, quite simply, makes life easier for travelers. By monitoring trip details and anticipating traveler needs, TripCase offers relevant advice and smart solutions whenever and where ever needed. TripCase provides critical flight alerts, weather delay updates, security notices and other valuable information, all free of charge to travelers. Powered by Sabre, TripCase's contextual travel tools simplify life on the road with things like currency conversions, driving directions, alternate flight options, expense reporting and more. TripCase helps people travel with confidence.
About Certify
Certify, LLC, is an online travel and expense management company that provides expense report and travel booking to corporations and individuals. The company provides a true SaaS on-demand travel and expense management solution which includes capturing receipts via mobile applications, and corporate credit card integration. Headquarters are located in Portland, Maine. For more information about Certify please call 207.773.6100 or visit http://www.Certify.com.
For more information about Certify please visit http://www.certify.com or contact 207.773.6100.
# # #