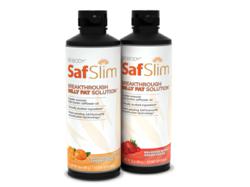 To ensure everyone who wants to enter has an opportunity to do so, we've decided to extend our deadline to February 7, 2012
GAINESVILLE, Fla. (PRWEB) January 25, 2012
In response to overwhelming demand, the deadline for entering the $25,000 SafSlim Lean Belly Challenge™ has been extended to February 7, 2012.
The 90-Day Challenge, officially launched by SafSlim™ enthusiast Montel Williams and ReBody CEO Naomi Whittel on January 10, challenges Americans to lose stubborn belly fat. People interested in a naturally derived solution for reducing stubborn belly fat can sign up for the Challenge on MySafSlim.com/challenge. Participants are asked to 1) take "before" photos and upload them, 2) record their abdominal measurements when they register, 3) take one tablespoon of SafSlim before two meals a day for 90 days†, and 4) chronicle their results as well as their Lifestyle Transformation with photos and a diary on MySafSlim.com. At the end of 90 days, they will upload an "after" photo, record their abdominal measurements, and write an essay of 250 words maximum about their LifeStyle Transformation. Challenge participants are encouraged to adopt a reduced-calorie diet, exercise regimen and other daily lifestyle modifications to promote their health.
The SafSlim Lean Belly Challenge grand prize winner will receive a $25,000 check, a 3-day trip for two to New York City to meet Montel Williams, and a one-hour personalized workout session with the star, along with a set of supplements to continue a healthy lifestyle (retail value: $1,000). To encourage keeping up the good work, the winner and friend will receive free gym memberships (maximum value $1,000).
SafSlim is the unique solution for reducing the causes of unsightly omentum fat, the fat that accumulates in the belly region. It is powered by SAFActive78™, a proprietary blend of safflower oil that an Ohio State University study found to be superior in attacking belly fat without diet or exercise.*
This patent-pending natural belly fat solution features a special blend of non-GMO, high-linoleic safflower oil and does not contain artificial flavors or colors.
"Our SafSlim team was overwhelmed by the number of entries we received. In fact, following national media coverage of SafSlim, the response to the SafSlim Lean Belly Challenge was so great that there were times that our servers were overwhelmed," said Naomi Whittel, CEO of ReBody. "To ensure everyone who wants to enter has an opportunity to do so, we've decided to extend our deadline to February 7, 2012," she added.
SafSlim Lean Belly Challenge entries and complete rules are available on the MySafSlim.com website at http://www.mysafslim.com/challenge. SafSlim can be found at Whole Foods Market, The Vitamin Shoppe and GNC, as well as online at http://www.SafSlim.com.
*These statements have not been evaluated by the Food and Drug Administration. This product is not intended to diagnose, treat, cure or prevent any disease.
†For best results, use in conjunction with a reduced-calorie diet and exercise program.
Δ SAFActive 78™, patent-pending No. 61/430,596
###