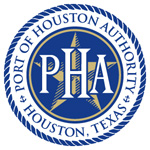 Houston, Texas (PRWEB) January 25, 2012
Building on a record year, the Port Commission of the Port of Houston Authority has approved a significant new redevelopment plan for obsolete properties located on the Houston Ship Channel at the Turning Basin Terminal. Demolition of existing facilities on the properties would progress over the next three years, and is expected to increase the value of the properties by an amount far in excess of the demolition costs, according to R.D. Tanner, Senior Director, Real Estate. The value of many of the tracts is enhanced by existing rail access and close-at-hand freeway location. The redevelopment plan was among a host of matters decided during the Port Commission's Jan. 24 regular meeting.
Chief Executive Officer Alec G. Dreyer began his monthly report by noting that 2011 was a special year for the Port Authority, with a number of accomplishments meriting attention.
The Port Authority recorded the highest volume of container TEUs and largest amount of container tonnage in its history, at 17.7 million tons and just under 1.9 million TEUs, and its 2nd highest total tonnage ever, less than 1 percent below its all-time record set in 2008.
In spite of a year-long drought, Dreyer said that the Port Authority also recorded an all-time record for grain handling in 2011, at nearly 2.4 million tons, displacing the previous record from 2000. In addition, operating revenue for the Port Authority set a new record at $204 million, besting the previous one set in 2008.
"And importantly, the Houston Ship Channel set an all-time record for highest number of ship calls at 8,073," he noted.
Barge traffic finished the year 8 percent ahead of 2010. For the year, ship arrivals for the Port Authority were up 1 percent.
Container TEU volumes were up 1 percent in December and finished the year 3 percent ahead of 2010. Container tonnage was up 4 percent for the year.
In spite of a much lower level of ship arrivals at the Turning Basin terminals, steel totaled 263,000 tons in December compared to 249,000 tons in December 2010. For the year, steel was up 58 percent, with an annual total of 4.3 million tons compared to 2.7 million tons in 2010.
"Our mid-month look at January 2012 steel provides an estimate of 450,000 tons," Dreyer said. "This would compare to January 2011 of 243,000, an 85 percent improvement and a nice start to the year for this important commodity."
Container revenue finished the year up 8 percent over prior year. Turning Basin revenue was up 24 percent for the year as a direct result of the significant increase in steel volumes, he noted.
OPERATIONS
(Agenda l5) The Port Commission approved the demolition and redevelopment plan for certain obsolete properties, many of which are nearly 70 years old, on the Houston Ship Channel or near the Turning Basin Terminal. The geographic location of these properties is in high demand in the current marketplace, given the attributes of channel frontage and rail service associated with the land component of the current improvements proposed to be demolished. Among the potential uses are petroleum liquid storage and transfer, steel import and export, and general cargo handling, which would provide a significant benefit to the Port Authority and the region.
CONTACT:
Bill Hensel, Manager, Corporate Communications
Office: (713) 670-2893 Cell: (832) 452-5776 E-mail: bhensel(at)poha(dot)com
Lisa Ashley, Director, Corporate Communications
Office: (713) 670-2644 Cell: (832) 247-8179 Email: lashley(at)poha(dot)com
About the Port of Houston Authority
The Port of Houston Authority facilitates commerce, navigation and safe waterways promoting sustainable trade and generating economic development for the Houston region, Texas and the nation, while being a model environmental and security steward, and a community-focused and fiscally responsible organization.
For more information, please visit http://www.portofhouston.com.
###