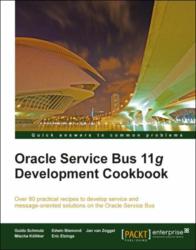 Birmingham, UK (PRWEB) January 28, 2012
Packt Publishing is pleased to announce the publication of its Oracle Service Bus 11g Development Cookbook - a comprehensive guide that allows SOA developers to gain in-depth knowledge for dealing with service and message-oriented solutions on the Oracle Service Bus. The book is available now from Packt and other leading retailers in print, ebook, Kindle and select library formats.
Tasks related to the Oracle Service Bus (OSB) such as creation of simple services, implementation of reliable communication, and the exchange of messages through JMS transport are made easy with the help of immediately usable recipes. This book also includes various tips and tricks to execute message processing in a proxy service.
Written by five well known SOA professionals, Guido Schmutz, Edwin Biemond, Jan van Zoggel, Mischa Kölliker and Eric Elzinga, this cookbook is filled with recipes that are complete, concise and to-the-point.
As Guido Schmutz and Eric Elzinga affirm, "The book contains more than 80 practical recipes to develop service- and message-oriented solutions on the Oracle Service Bus 11g"
Detailed recipes are covered in essential chapters:
1. Creating a basic OSB service
2. Working efficiently with OSB artifacts in Eclipse OEPE
3. Messaging with JMS transport
4. Using EJB and JEJB transport
5. Using HTTP transport
6. Using File and Mail transports
7. Using JCA adapter to communicate to the database
8. Using SOA Direct transport to communicate with SOA Suite
9. Communication, Flow Control and Message Processing
10. Reliable communication with OSB
11. Handling Message-Level Security requirements
12. Handling Transport-Level Security requirements
The Oracle Service Bus is a lightweight and scalable SOA integration platform that is designed to connect, mediate, and manage interactions between different services, applications, packaged solutions and multiple Enterprise Service Bus (ESB) over wide service network. This is a core component in the Oracle SOA Suite as a backbone for SOA messaging.
Packt Publishing has also released other related titles including:

Packt Enterprise is a leading publisher of Enterprise books for Oracle, Microsoft, IBM, SAP, Citrix and other technology companies. Packt Enterprise develops books for Architects, Developers, Administrators and End User alike.
###