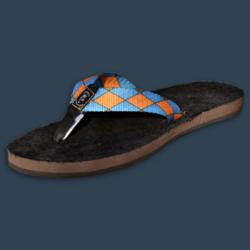 Fayetteville, NC (PRWEB) January 26, 2012
If you're lucky enough to be enjoying the sunshine and palm trees instead of snowstorms and wind chills, the company that brings you the most unique and comfortable footwear for wandering the planet has a new sandal to soothe the sole.
Nomadic State of Mind just released a new style in a long line of fun and funky footwear.  The reenergized Ecolyte shares the same squishy footbed and Vibram sole as its predecessor, but it has some distinct changes.  The new furry footbed is made of hemp pho fur and there are two strap designs to choose from, Jaguar and Argyle, with more choices coming soon.  Both versions of the Ecolyte are made in America, from quality materials, and are made to last - just like the company's original rope sandals.
About Nomadic State of Mind
Nomadic State of Mind was founded (its a good thing Chris finally found it, he had been driving aimlessly around the planet for years- then he looked behind a tree and found Nomadic State of Mind) nearly ten years ago and is based in North Carolina.  Manufacturing takes place both in Florida and in Nicaragua where the company has helped support a small community for the past eight years.  Nomadic has always believed in positive contributions to the world around them is committed to remaining true to their roots.  For more information or additional art work please contact Chris Anderson or Shea McNally at 877-666-2376 or http://www.nomadicstate.com.
###