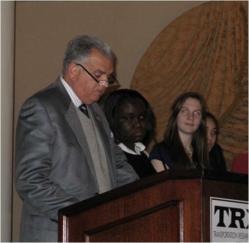 Washington, DC (PRWEB) January 25, 2012
On Sunday night, Jan. 22,2012, US Department of Transportation Secretary, Ray LaHood, addressed an audience of hundreds of members of the professional transportation industry at a reception hosted by WTS International, the association for the advancement of women in the transportation industry. The reception served as a networking event at the Transportation Research Board's annual conference and meeting in DC. LaHood's words pointed to the urgent need to get more of the country's youth, particularly girls and young women, engaged in science, technology, engineering, and math studies, know as STEM, to help prepare the US for a winning future.
"As we rebuild our nation's transportation systems, the opportunities for young women are enormous. But here's the catch: To fill these jobs, we need to prepare young people to seize the opportunities before them. That means teaching the science, technology, engineering and math skills. But that also means linking young women with role models and with mentors – and creating a pipeline that will bring a new generation of young women into transportation industries," said LaHood.
Marcia Ferranto, WTS International's President and CEO, emphasized that her organization and the US DOT have a common goal. "The skilled talent responsible for innovation in transportation systems is retiring, and the quantity of young talent coming up through STEM education and training paths is dwindling," she said. LaHood's participation at the WTS reception was an appropriate step in generating awareness about solutions that are being created to solve the dilemma of the dwindling transportation talent pool. With the primary goal of growing the female demographic in the transportation industry's professional leadership roles worldwide, the association is getting the attention it needs from the US's major players, such as its three lead sponsors, AECOM, CH2M Hill, and Parsons Brinckerhoff, to help move WTS's strategic plan along.
"WTS has 48 chapters and more than 5,200 members in the US, Canada, and the UK, and is building presence now in Brazil, India, and the Middle East," says Ferranto. "Within each chapter we encourage the continuing education of women in professional roles in the transportation industry with training, the advancement of women through the ranks with mentorships and networking, and now, in partnership with the US Department of Transportation, we've set our program for young women aged 13 – 18 years in motion."
The program Ferranto refers to, called Transportation YOU, is designed to encourage girls to focus studies in the STEM, disciplines, which are losing ground in popularity and at the core of concern for the DOT. "With the cooperation of major sponsors for our programs and scholarships, WTS is poised to steer the current path of the world's future infrastructure back in the right direction," added Ferranto.
WTS International and WTS Foundation, headquartered in Washington, DC, has provided more than $1,000,000 in scholarships to deserving women throughout the transportation industry, supporting the next generation of transportation professionals and advancing the principles of WTS. WTS is committed to advancing women in transportation through expanding existing scholarship opportunities to women pursuing transportation related degrees, providing and promoting more educational opportunities and career development to advance women in transportation, and initiating, sponsoring and publishing research related to advancing women in transportation. More information can be found at http://www.WTSInternational.org
Transportation YOU is a hands-on, interactive, mentoring program that offers young girls ages 13-18 an introduction to a wide variety of transportation careers. Through the program, WTS chapters work to make a difference in the lives of young girls by offering programs and activities that will spark their interest in all modes of transportation and encourage them to take courses in math, science, and technology, which are the stepping stones to exciting careers that can change the face of the transportation industry. For more information, contact Marcia Ferranto at 202-955-5085.
###