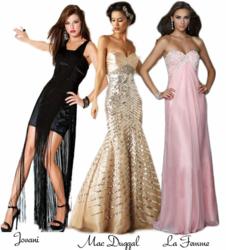 Girls can look and feel as glamorous like their favorite celebrities while still staying in a budget
Port Jefferson Station, NY (PRWEB) January 27, 2012
Prom night only happens once in a lifetime, so it is important to choose the perfect dress for this huge milestone. Magic Moments, an authorized retailer of over 50 fabulous designers, is suggesting that young women look to their favorite celebrities to get some ideas for the perfect gown. Recent awards ceremonies are a great place to begin scouting styles for elegant and sexy prom gowns.
Unfortunately most girls cannot afford the same high price tags their favorite celebrities wear but there are a large number of Designers out there that do create these looks to be affordable. There were an incredible number of stylish designer dresses and unique gowns worn at the People's Choice Awards. The wide range of red carpet dresses on display that evening can be a great starting point for choosing prom gowns.
Take for example, Glee actress Lea Michele, who opted for a fun 1920's inspired fringe dress in white with slinky sleeves and a detailed bodice. Paired with bold pink lipstick and smoky eyes, the actress pulled off a flirtatious and playful look. Designers like Jovani, Hannah S, Panoply and La Femme, offer looks like this.
Lucy Hale, from "Pretty Little Liars", made a daring move with a totally unique black mini-dress with a swirling cutout pattern, one shoulder sleeve, and a side train. The dramatic lines of the dress made for an intriguing and eye-catching ensemble. If you like styles like this, look at designers like Shimmer, Studio 17, Riva, Mac Duggal and Atria.
Vanessa Hudgens vamped it up in a sexy, Goth gown. The long, flowing black dress featured a silver spider web pattern and a sheer panel that came up out of the décolletage and tied around the neck. This sexy dress has received a great deal of positive feedback from around the world. Tony Bowls, Evenings by Allure, Jasz, and Alyce Paris carry looks like this that are stunning.
Host Kaley Cuoco, from "Big Bang Theory", also made a great impression with her classic nude colored dress with floral appliqués. The sheer shoulders and flowy material created a whimsical, romantic look. These sophisticated styles can be found in Jovani, Tony Bowls, Crush and Scala.
The 69th Annual Golden Globes also featured a number of beautiful celebrities dressed in gorgeous gowns that would inspire any prom girl. Actress Roony Mara from "The Girl With the Dragon Tattoo", who wore a sophisticated yet sexy dress with cutout sides and a deep plunging neckline. To reveal your daring side, be sure to look to designers like Shimmer, Flaunt, Paris, and Flirt.
Sarah Hyland from "Modern Family" went classic in a vintage strapless Dolce & Gabbana nude gown with a black lace belt. The neutral tone of the dress offset her glowing golden skin and rich hazel eyes. Neutral, nude or barely-there styles are popular in 2012, and Designers like Jovani, Mac Duggal, and Crush offer a nice selection.
Emma Stone from "The Help" was another fashion winner with her rich plum colored Grecian-style gown with raspberry side panels and a thick black belt with a silver eagle buckle. The Grecian gown never goes out of style. Any girl can find them in designers like Shimmer, La Femme, and Night Moves.
"Girls can look and feel as glamorous like their favorite celebrities while still staying in a budget." Claims Laura, a Manager at Magic Moments. "Magic Moments has been dressing girls for proms for years. Nothing makes us happier than to see our prom girls excited when they found their perfect gown."
Company Profile
Magic Moments is an authorized retailer of over 50 designers. Jovani, Tony Bowls, Flirt, La Femme, House of Wu, Terani, Mori Lee, and Mac Duggal are just of the few designers they carry that have been seen on the Red Carpet and inside the pages of high-fashion magazines. They have been serving their community on Long Island, in NY for many years and dressing women all over the globe through their online stores and fabulous customer service. Magic Moments offers three online shops for those who like to or need to shop from home. http://www.magicmomentsprom.com , http://www.magicmomentscollections.com and http://www.magicmomentschristening.com.
###