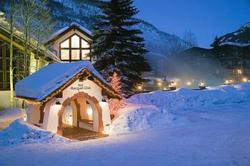 Vail, CO (PRWEB) January 27, 2012
Guests arriving at the Vail Racquet Club Resort enjoy free parking and a wonderfully appointed condominium. After a warm welcome from the resort's friendly and professional staff, Romantic Interlude guests begin their stay with a relaxing and rejuvenating massage.
This package includes complimentary use of Vail's most extensive health club facilities, which feature a 25 meter swimming pool, hot tubs, 3000 square foot state-of-art fitness center, stream rooms, saunas, yoga studio and more.
Begin in the Old Muddy Bar (open 4:30PM) with stemmed champagne glasses brimming with Prosecco accompanied by Chef Paolo Busi's homemade bruschetta. The Old Muddy resonates with live music on weekends and is Vail's best neighborhood bar.
Prosecco, made primarily in the district of Valdobbiadene (Val-do-bi-ad-en-ay) near the town of Conegliano in the region of Veneto, Prosecco has quickly become one of the most successful sparkling wines in the world. Tiramisu is made of Savoiardi (specialty lady fingers) dipped in coffee or espresso, layered with a whipped mixture of egg yolks, mascarpone cheese and flavored with liquor and cocoa.
Complete the evening with dinner at the Alpine Tavern - a very special dining experience - Executive Chef Paolo Busi's special, 5 course, 5 star Valentine's menu:
The beginning – homemade calamari appetizer – the best in the Vail Valley
Second Course – dinner salad of mixed greens or Caesar
Third Course – a light preparation of pasta served in a creamy leek sauce
Fourth Course – a choice of:
Trout Almondine
Colorado Trout Filet, White Wine Lemon Sauce
Sautéed Almonds
Poulet de Fraises
Breast of Chicken,White Wine Sauce, Strawberries
Rosemary, Touch of Cream
Veal Marsala
Veal Scaloppine, marsala wine
Fresh Herbs, Wild Mushrooms
Fifth Course – Chef's homemade Tiramisu – Mama's recipe!
Regular menu and weekly specials are also available.
Guests may pair dining selections with Alpine Taverns fabulous wines. Alpine's wine cellar presents wonderful choices including reasonably priced Napa, Sonoma, Italian, and other international wines perfect for your special celebrations. For the connoisseur, Alpine Tavern has an excellent selection of fine French and American wines.
Alpine Tavern's international staff delivers, in the words of the customers "awesome service". Dining is a unique experience not just a meal. All guests will be recognized at the entrance as a valued individual and a treasured guest.
Diners can continue their mountain experience at the Alpine Tavern. Soaring ceilings, a roaring fire, dramatic lighting and alpine views result in Vail's premier mountain setting. White linen tablecloths, fine silver, crystal and crockery frame every meal. Experience a diverse and dramatic world of dining at the Alpine Tavern. The dining room, the Edelweiss, presents a casual, but elegant ambiance.
The Romantic Interludes package begins at a special rate of $899 - a one bedroom condo for two nights; 2 massages, plus dining for 2 at the Alpine Tavern!
Check out the Alpine Tavern's new selections and weekly music lineup in SneakPEAK Vail's event calendar.
The Alpine Tavern and Vail Racquet Club Resort are not just Vail…..they are the best of Vail….in East Vail, 4695 Vail Racquet Club Drive. Open every day including Tuesdays! To make reservations for your Valentine's experience call Vail Racquet Club Resort at 970-476-4840.To make a reservations at the Alpine Tavern call 970-476-7888.
###