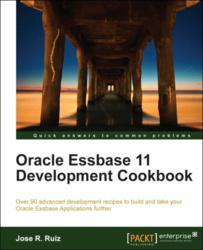 Birmingham, UK (PRWEB) January 30, 2012
Packt Publishing is pleased to announce Oracle Essbase 11 Development Cookbook, a new Oracle learning resource designed to help developers successfully build and deploy Essbase applications. The book is available now in print, eBook, Kindle and select library formats.
Written in a cookbook style by Jose R. Ruiz, the Oracle Essbase 11 Development Cookbook focuses on the use of a relational data model to build and load an Essbase cube and work with the data elements in Essbase Studio. The book highlights topics such as building the BSO cube, ASO cube, using EAS for development, creating calculation Scripts and using MaxL to automate processes.
Furthermore, a wide variety of well explained functions will help developers improve the design components of a Data Mart, maintain meta-data, and support drill-through reporting. Creating load rules and reporting off an Essbase cube are also explained in a concise manner using step-by-step recipes.
The book's content covers 10 chapters, which are:
Chapter 1: Understanding and Modifying Data Sources
Chapter 2: Using Essbase Studio
Chapter 3: Building the BSO Cube
Chapter 4: Building the ASO Cube
Chapter 5: Using EAS for Development
Chapter 6: Creating Calculation Scripts
Chapter 7: Using MaxL to Automate Process
Chapter 8: Data Integration
Chapter 9: Provisioning Security Using MaxL Editor or Shared Services
Chapter 10: Developing Dynamic Reports
Oracle Essbase is a multi-dimensional Online Analytical Processing (OLAP) server, providing a rich environment for effectively developing custom analytic and enterprise performance management applications. Oracle Essbase enables business users to quickly model complex business scenarios.
Packt Publishing is one of the world's leading publishers of Oracle books and ebooks, and recent titles have included:

Oracle GoldenGate 11g Implementer's guide
Oracle Information Integration, Migration, and Consolidation
Oracle Identity and Access Manager 11g for Administrators
Packt Publishing has also developed its own bespoke Oracle books library on its PacktLib system. Full details of the Oracle library can be found on Packt's website.
###