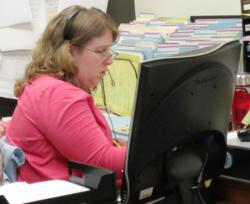 Let's not forget. These are real people with real crises on their hands.
Waltham, Mass. (PRWEB) January 26, 2012
Two Ten Footwear Foundation's social services department fielded a whopping 2,093 intake calls last year from footwear industry professionals seeking financial assistance– compared to a total of 1,826 calls received in 2010.
In just three years, the amount of intake calls at Two Ten Footwear Foundation has more than doubled.
"This is a challenging economy. Shoe companies, shoepeople and families are under pressure. Whether it's because of layoffs, shortened hours, unexpected family situations like divorce, the death of a loved one or an extraordinary medical condition, we're preparing for the number of calls for assistance to continue to increase over the next few years," said Neal Newman, Two Ten's new President.
Two Ten Chair Jim Salzano agreed, adding, "The work that Two Ten does is invaluable. And more will be expected of us. Our Foundation is built on a principle of 'shoepeople helping shoepeople' and we will continue to operate by that principle through these challenging times – it's what we're here for. We're going to make sure we continue responding to calls from people who need our help. And we are going to deepen our communications with our corporate donors all over the United States to make sure we assist as many shoepeople as possible."
"Let's not forget. These are real people with real crises on their hands. Two Ten must be there –we must be ready to provide the social services and financial assistance needed to those who are struggling. The generosity of the footwear industry is enormous. I'm confident, with everyone's help and support, we can continue to meet this fast-growing need," said Newman.
To make a donation to Two Ten Footwear Foundation, call (800) 346-3210, or visit Two Ten Footwear Foundation online at http://www.twoten.org/donate.
About Two Ten Footwear Foundation: Two Ten is committed to strengthening the footwear community with financial relief, scholarships, counseling support and referral services to shoepeople in need, while nurturing community building, mentorship and volunteerism within the industry. For more than 70 years, Two Ten continues to be the safety net for the shoe industry.
###