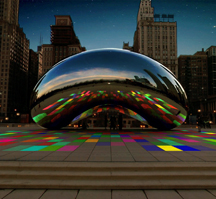 Chicago, IL (PRWEB) January 27, 2012
Chicagoans and visitors will join in the fun at Luminous Field, the unprecedented site-specific video and sound installation by the Chicago-based artists, Luftwerk, that will illuminate Cloud Gate in Chicago's Millennium Park from February 10-20. Family activities, live performances and dance events will complement the installation that will transform the Park into a digital canvas of light and geometrical form, with music composed by Owen Clayton Condon of Chicago's Third Coast Percussion.
Visitors can enjoy the spectacular installation each evening (Fridays—Saturdays 6 p.m. to 10 p.m.; Sundays—Thursdays 6 p.m. to 9 p.m.) and take part in programs created specifically for Luminous Field on the weekends at an adjacent heated tent in Millennium Park's Chase Promenade North. All activities are free.
This month, Millennium Park ranked #7 in Travel + Leisure's list of the World's Most Popular Landmarks, highlighting Cloud Gate – known by Chicagoans as "The Bean." "If anything could possibly enhance the interactive experience of Anish Kapoor's monumental Cloud Gate sculpture in Millennium Park – then this could be it," said Dorothy Coyle, Executive Director of the Chicago Office of Tourism and Culture. "Visitors from all over will want to see this beautiful sound and light show in the center of the Park each night; then round out their trip by enjoying music and dance programs in the tent and the permanent art in the Park."
The schedule of weekend events for Luminous Field include:
FAMILY ACTIVITIES
Saturdays—Mondays, February 11-13 and February 18-20; 11 a.m. – 3 p.m.
Warm up in the heated tent with fun family activities, including hands-on arts and craft projects and performances for all ages. Each day kicks off with Wiggleworms instructors from the Old Town School of Music at 11 a.m. and features a variety of musical performances at 1 p.m.
Family craft activities are presented by Chicago Children's Museum and Chicago Architecture Foundation February 11-13. Activities are presented by The Art Institute of Chicago on February 18-20.
INTERACTIVE PERFORMANCES AT AT&T PLAZA
Fridays, February 10 and 17; 7, 8 and 9 p.m.
Join local theater company Collaboraction at Cloud Gate for site-specific performances inspired by Luminous Field. Follow along with their choreographed movements and participate in interactive games, all synchronized with Luminous Field's video and sound.
WINTER DANCE
Saturdays, February 11 and 18; Dance Lesson: 5 – 6 p.m.; Open Dancing: 6 – 8 p.m.
Enjoy dance lessons at a dance party in the indoor heated tent before heading out to see Luminous Field. Dancing is preceded by a one-hour lesson led by professional instructors. Doors open 30 minutes before the start of each session. No reservations required, but space is limited.
February 11: Dance Instruction by the American Tango Institute and Live Music by Tangata
February 18: Dance Instruction by Big City Swing and Live Music by Sons of Susan
SUNDAY NIGHT CONCERT SERIES
Sundays, February 12 and 19; 7 p.m.
Performances take place in the heated tent. Doors open 30 minutes before the start of each show. No reservations required, but space is limited.
Sunday, February 12: Third Coast Percussion
Sunday, February 19: Pillars and Tongues
ARTIST TALK WITH LUFTWERK
Wednesday, February 15, 7 p.m.
Learn more about Luftwerk's process in creating Luminous Field in this conversation led by Lou Mallozzi, Adjunct Professor at the School of the Art Institute of Chicago and Executive Director of Experimental Sound Studio.
Luminous Field by Luftwerk is presented by the Chicago Office of Tourism and Culture, in cooperation with the City of Chicago's Department of Cultural Affairs and Special Events, the Illinois Department of Commerce and Economic Opportunity and the Illinois Office of Tourism. Food and beverages by the Park Grill restaurant will be available for purchase in the indoor heated tent. Production for Luminous Field is by AV Chicago.
For more information about Luminous Field by Luftwerk, visit http://www.explorechicago.org/winter, call 312.742.1168, visit Explore Chicago on Facebook or follow us on Twitter @explorechicago.
Luftwerk
Luftwerk is the artistic collaboration of Petra Bachmaier and Sean Gallero, both graduates of The School of the Art Institute of Chicago. They have worked together for over 10 years, presenting their work at cultural institutions, galleries and public venues, nationally and internationally. In 2007, they formed Luftwerk with a focus on new media, video and light design. They have created multi media video installations in locations as diverse as MASS MoCA, JFK Airport, Las Vegas, New Orleans and Frank Lloyd Wright's Fallingwater and Robie House.
Millennium Park
Millennium Park is located in the heart of downtown Chicago. It is bordered by Michigan Ave. to the west, Columbus Dr. to the east, Randolph St. to the north and Monroe St. to the south. Convenient parking is located in the Millennium Park Garage (entrance on Columbus at Monroe or Randolph) and at the Grant Park North and East Monroe Garages, all located within a short walking distance of Millennium Park.
Millennium Park, managed and programmed by the Chicago Department of Cultural Affairs and Special Events, is an award-winning center for art, music, architecture and landscape design. The result of a unique partnership between the City of Chicago and the philanthropic community, the 24.5-acre park features the work of world-renowned architects, planners, artists and designers. Among Millennium Park's prominent features are the Frank Gehry-designed Jay Pritzker Pavilion, the most sophisticated outdoor concert venue of its kind in the United States; the interactive Crown Fountain by Jaume Plensa; the contemporary Lurie Garden designed by the team of Gustafson Guthrie Nichol, Piet Oudolf and Robert Israel; and Anish Kapoor's hugely popular Cloud Gate sculpture.
Visitor Information Resources
Visitors and residents entertaining out-of-town guests will find helpful trip-planning tools and tips on Chicago's top-ranked travel and tourism website, http://www.ExploreChicago.org. For daily alerts about things to do and see in Chicago, follow Explore Chicago on Twitter at twitter.com/explorechicago (COTC's free Twitter Concierge service @explorechicago) and on Facebook at facebook.com/explorechicago. Discover fun itineraries on the Explore Chicago blog at explorechicagotourism.com and on Foursquare at foursquare.com/explorechicago.
Expert advice and information about the city's events and attractions are also available at the Chicago Office of Tourism and Culture's Visitor Information Centers located across from Millennium Park in the Chicago Cultural Center, 77 E. Randolph Street, and at the historic Water Works pumping station, 163 E. Pearson Street at Michigan Avenue.
Visiting Media Resources
Visiting journalists on assignment can receive assistance by calling 312.742.0821 or visiting http://www.ExploreChicago.org/pressroom – including help with accommodations and customized itineraries; story ideas, fact-checking and images; and the Passport to Chicago program with complimentary and discounted access to more than 100 cultural and tourist attractions.
Chicago Office of Tourism and Culture
The Chicago Office of Tourism and Culture markets Chicago as a premier cultural destination to domestic and international leisure travelers; provides innovative visitor programs and services; and familiarizes visitors and residents with the city's vibrant neighborhoods, cultural attractions and creative industries. The Chicago visitor industry serves 40 million visitors annually, generates $11 billion in direct spending and $616 million in taxes, and sustains 124,000 jobs. For more information, visit http://www.ExploreChicago.org.
To retrieve high resolution images, go to this Picasa album.
###