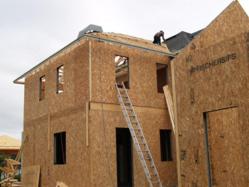 Making it easy and cost-effective is the key.
Florham Park, NJ (PRWEB) January 26, 2012
BASF, the world's leading chemical company, is proud to announce that Neopor® rigid foam insulation is a key ingredient in the Cool Energy House, an energy-retrofit demonstration project made possible by the technical innovations of the Department of Energy's (DOE) Building America Retrofit Alliance (BARA). The house, located in Windermere, Florida, will be open for tours during the NAHB International Builder's Show®, Feb. 8-11, 2012 at the Orange County Convention Center, Orlando, Florida.
The improvements to this 1996 built home have reduced energy consumption by more than 50 percent. One of the major contributors to the energy reduction was the specification of structural insulated panels (SIPS) from FischerSIPS® made of BASF Neopor insulation fabricated by Opco. Neopor insulation stands apart from traditional expandable polystyrene (EPS) because it contains graphite particles that reflect and absorb thermal radiation and provide better insulating performance by up to 20 percent more than traditional EPS.
"We know that energy efficiency starts with a well-insulated building envelope," said Damian Pataluna, President of FischerSIPS. "Since FischerSIPS with Neopor can increase energy efficiency by up to 20 percent, using them in wall and roof systems makes it easier for builders and architects to reach aggressive energy-saving goals."
Aaron Wood, BASF's North American Marketing & Innovation Manager for the Global Foams Business agrees, "Making it easy and cost-effective is the key. That's why BASF works with our customers and Neopor Ingredient Brand partners on projects like the Cool Energy House. We believe, through innovation, we can accelerate the industry's efforts to commercialize more sustainable and energy-efficient building solutions. Projects like this are an important part of that process," said Wood.
For more information on BASF's energy-efficient, durable and sustainable construction offerings, please visit http://www.basf.us/construction.
To schedule a booth tour during IBS or for more information about visiting the Cool Energy House, please contact Mary MacLeod Jones at 207-222-2774.
About Building America Retrofit Alliance (BARA)
BARA is a U.S. Department of Energy Building America team led by Building Media, Inc. BARA combines technical expertise and real-world experience with communications and outreach expertise to bridge the gap between residential energy technology research and the construction market. The BARA team's strength is derived from its high qualified, multidisciplinary members: Building Media, Inc., the New Jersey Institute of Technology, Steve Easley and Associates, and Confluence Communications.
About Opco
Located in Latrobe, Pennsylvania, Opco is an EPS foam block molder and fabricator with 22 years experience in the industry. They utilize current technology equipment providing high performance materials to the lamination, insulation and packaging fabrication markets. From their 130,000sf facility located in western Pennsylvania, OPCO is situated to serve a large geographic market.
About FischerSIPS
Established in 1987 by Fred Fischer, FischerSIPS is a manufacturer and distributor of structural insulated panels located in Louisville, Kentucky. With a focus on the small to mid-size builder and general contractor, FischerSIPS can adapt and change to meet a variety of needs.
About BASF
BASF Corporation, headquartered in Florham Park, New Jersey, is the North American affiliate of BASF SE, Ludwigshafen, Germany. BASF has approximately 16,400 employees in North America, and had sales of $17.7 billion in 2010. For more information about BASF's North American operations, visit http://www.basf.us.
BASF is the world's leading chemical company: The Chemical Company. Its portfolio ranges from chemicals, plastics and performance products to agricultural products, fine chemicals and oil and gas. As a reliable partner, BASF creates chemistry to help its customers in virtually all industries to be more successful. With its high-value products and intelligent solutions, BASF plays an important role in finding answers to global challenges, such as climate protection, energy efficiency, nutrition and mobility. BASF posted sales of more than €50 billion in 2009 and had approximately 105,000 employees as of the end of the year. Further information on BASF is available on the Internet at http://www.basf.com.
Neopor® is a registered trademark of BASF SE
FischerSIPS® is a registered trademark of FischerSIPS, LLC
International Builder's Show® is a registered trademark of the National Association of Home Builders
###