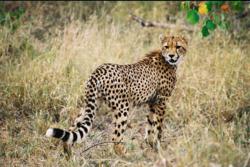 "I've had some great hunting and fishing experiences here in the states, from the east coast to Montana, but have always dreamed of hunting in Africa,"
NASCAR driver Martin Truex
Charlotte, NC (PRWEB) January 25, 2012
The 2012 African Sporting Exposition (ASE) kicks off this week in Charlotte with a Wednesday, January 25th evening Africa Full Throttle reception at the NASCAR Hall of Fame. NASCAR Sprint Cup Series driver Martin Truex, Jr. will welcome the exhibitors and attendees as spokesman and ASE Ambassador.
The driver of the No. 56 NAPA Auto Parts Toyota for Michael Waltrip Racing is an avid outdoorsman and hunter, and Truex will help share the dream of an African hunting or photographic adventure by promoting the second annual Charlotte ASE show scheduled for January 26-28, 2012 at the Charlotte Convention Center.
"I've had some great hunting and fishing experiences here in the states, from the east coast to Montana, but have always dreamed of hunting in Africa," said Truex. "I'm planning my first safari right now and we'll be going over at the conclusion of the 2011 Sprint Cup season. I look forward to sharing all the details with my fans at the African Sporting Expo in Charlotte as they kick off the show this week."
"The Essence of Africa Awaits You!" is an ASE immersion into the wonders of Africa featuring a "who's-who" collection of the finest photo, hunting and fishing safari outfitters direct from the African continent, as well as purveyors of exclusive sporting equipment, optics, African wildlife art, and clothing.
Thursday afternoon through Saturday evening the ASE is open to the public. One of the first of its kind in the southeast, the event offers an intimate private show format where attendees can meet Africa's most respected outfitters face to face, ask questions in an exclusive atmosphere and plan their dream safari. ASE outfitter exhibitors are the finest safari operators in Africa and all must be members in good standing of their respective country's professional safari operator associations.
In addition to safari operators and unique sporting equipment, the African Sporting Exposition will showcase premier wildlife artists from North America, Europe and Africa displaying the very best African wildlife art and will include a "Meet the Artist" cocktail reception Friday evening for exhibitors and reception registrants.
Fitting for Charlotte and its NASCAR racing heritage, the Expo will kick off with a reception called "Africa Full Throttle" Wednesday evening at the NASCAR Hall of Fame Museum. Truex will join Africa's finest outfitters and expo registrants for an evening of friends, fun, wheels and wildlife.
The African Sporting Exposition event and show hours are:
NASCAR Hall of Fame Museum
Wednesday, January 25, 2012 6:30 p.m.-9:30 p.m.
Africa Full Throttle Kick Off Reception
Charlotte Convention Center
Expo hours:
Thursday, January 26, 2012 4:00 p.m.- 9:00 p.m.
Friday, January 27, 2012 11:00 a.m.-5:00 p.m.
Meet the Artist Cocktail Reception 5:00 p.m.-7:00 p.m.
Saturday, January 28, 2012 9:00 a.m.-5:00 p.m.
Daily expo admission is only $20 with multi-day passes available. Discount admission for active military and children under 12 are free.
As a very special incentive to attend the Expo, for every one-day pass purchased, show attendees will be entered into a door prize drawing for a Krieghoff Classic Big Five double rifle package in .470 Nitro Express caliber valued at more than $12,000 and two Land Rover of Charlotte Driving Experience packages at the Biltmore Hotel in Asheville, NC. Three-day pass purchasers receive four chances to win and full registration purchasers receive six chances in the double rifle and Land Rover drawings.
For more information on the January 26-28, 2012 African Sporting Exposition, the double rifle and Land Rover drawings, an exhibitor listing, and admission pricing visit http://www.africansportingexpo.com or email info(at)africansportingexpo(dot)com. Follow ASE on Facebook.com/AfricanSportingExpo.
###