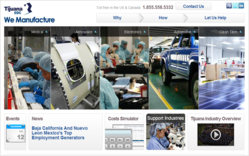 Tijuana, Mexico (PRWEB) January 25, 2012
During the past year, Tijuana EDC strengthened it's global position as a prime manufacturing destination. During 2011 fourteen new investments started operations in Tijuana with a total footprint of over 800.000 square feet. The main growth sectors were suppliers of metal parts and packaging, with companies such as Ryerson (U.S), and Inzi Display (Korea), that will service the more that 570 global manufacturing companies established in the City. Siliken a Spanish consortium established a 300 people solar panels assembly operation.
Tijuana experienced important expansions during 2011 with over 1 million square feet and nearly 3.000 new positions. Companies like Samsung (Korea), Greatbatch(U.S.), Foxconn (Taiwan), Energy Labs(U.S.), Avery Denisson (U.S.), Fisher & Paykel (New Zealand) received federal and state government incentives to support expansions and new projects, and for the first time medium and small companies such Siliken reach founding via shelter administrators.
To continue strengthening and facilitating new investments the Tijuana EDC has launched a new interactive website http://www.tijuanaedc.org as a decision making tool for the industrial community and business consultants interested in a near-shore strategy for North American market or to establish a competitive new manufacturing operation.
On this site a decision maker will be able to start the research process getting basic information about the legal and fiscal framework for export-oriented companies in Mexico, steps on how to start a manufacturing operation, labor costs calculator, schedule at no cost a web seminar or a consultation agenda with leading service firms in fields such as legal, accounting, construction, industrial real estate, amongst others. The objective of the the site is to support the Tijuana EDC as a one-stop-shop for startup manufacturing operations in Mexico or contract manufacturing.
The site shows Tijuana´s transformation from a low-cost destination to a location of high quality and innovation manufacturing, with immediate access to the U.S. market, an advantage that no other country can offer at competitive total costs. One of the site's key features is the online cost calculator that enables a visitor to simulate basic costs for a typical manufacturing operation in Tijuana, Mexico.
Tijuana EDC started 2012 with its new Board of Directors and committees for Medical Device, Aerospace, Electronics, and Clean Tech. David Mayagoitia new Chairman of the Board commented "Tijuana is at a key point in time, where on the one hand, we need to take advantage of what we now have (a large manufacturing base) and on the other find a way to become our neighbor's strategic partner". Tijuana EDC will continue its strategic alliances with Mexico Business Council for Foreign Trade and with the CaliBaja Bi-national Mega-region, providing added value to companies in search of a more competitive locations to invest.
About Tijuana EDC: The Tijuana EDC is a nonprofit corporation dedicated to help companies to establish successful manufacturing operations in Mexico and to take advantage of business opportunities of vertical integration introducing qualified Mexican suppliers and accessing new markets. For more information on how to take advantage of these opportunities contact the Tijuana EDC at [email protected] or visit their website http://www.tijuanaedc.org
###