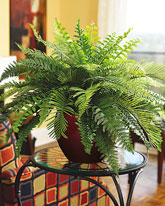 Our silk greenery looks incredibly real … you can't beat their ease, too … no more watering or cleaning up fallen leaves.
White Plains, N.Y. (PRWEB) January 27, 2012
Silkflowers.com is pleased to offer an extensive silk greenery collection of exquisite plants, graceful grasses and stunning silk trees – all artificial and amazingly lifelike. With these offerings the hassle of caring for live indoor plants and trees in the home becomes a thing of the past.
"Our silk greenery looks incredibly real, thanks to recent improvements in artificial botanical technology," Tim Hennessy, co-founder of Silkflowers.com, said. "Compared to ten, even five years ago, the leaves and petal components are amazingly authentic. You can't beat their ease, too, especially with today's busy lifestyle. No more watering and cleaning up fallen leaves. Our products offer instant, care-free beauty that lasts for years."
Need some color and height for an empty corner of a living room or for a large entryway? Silkflowers.com offers a great variety of artificial trees – ficus, bamboo, palm, Ming Aralia, to name a few – in multiple sizes, from 5 to 14 feet tall. Prices range from $159 to $1,399.
Aiming to liven up the smaller spaces in a home? Choose from Silkflowers.com's seemingly endless selection of grasses and plants (hanging and for tabletops) to add timeless color and interest to bookcases, cabinets, shelves, counters and tables. Popular varieties include traditional English and Holland ivy, fern, azalea, coleus, pothos, croton, wonderful mixes of grasses, and exotic offerings like yucca, mixed palm and succulent designs. Prices range from to $35 to $499.
All Silkflowers.com greenery arrives expertly packaged, fully assembled and ready for instant display. The company also offers abundant options for decorative containers that may be purchased separately or together with the greenery.
For more information and to add silk greenery to the home (or to someone else's; they make great gifts) visit http://www.silkflowers.com. The company is also on Facebook and Twitter and it has a blog, http://blog.silkflowers.com.
Silkflowers.com is the nation's largest supplier of designer-quality silk botanicals, including floral arrangements, decorative stems, plants and trees. The company proudly offers the widest selection and inventory of beautifully designed silk creations at affordable prices, delivered directly to consumers with utmost care. Silkflowers.com's sister company, OfficeScapesDirect, serves the commercial market in the same manner, offering the widest selection anywhere of designer-quality silk botanicals for business interiors and commercial spaces. Both companies are located in Cincinnati, Ohio, and White Plains, N.Y.
###