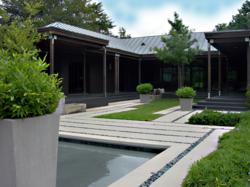 "When building a pool think past the concrete shell and how the pool should connect with the rest of the outdoor living space."
Dallas, Texas (PRWEB) January 26, 2012
PoolWorx℠ is a whole new concept in pool design and building which helps homeowners maximize their buying power by taking the guess work out pool design and contractor selection. The revolutionary model gives homeowners a cost effective, unique outdoor living space while offering them the added level of consumer protection that is needed when adding a pool.
"At KDG, we understand that designing and building a pool is a large investment and we feel our clients should have an enjoyable buying experience while getting the outdoor living space of their dreams," says Robert Knäak, Principal and Founder of Knäak Design Group." "PoolWorx℠ is designed to alleviate the high pressure nature of sales and bring to light the many construction unknowns that ordinarily cause buying experiences to be unpleasant. We help homeowners create a unique, well thought out design, that is carefully and skillfully constructed, for a price well afforded and best of all, PoolWorx℠ is absolutely free to our clients."
Knäak Design Group is a nationally recognized landscape and architecture firm, providing professional services to architects, engineers, builders, and homeowners looking for high-end design. PoolWorx℠ is a free service for customers. To learn more about all our professional design services or PoolWorx℠, please visit http://www.knaakdesigngroup.com or call 1-800-560-8361.
Knäak Design Group has offices in Dallas, Phoenix, and southwest Florida and provides services nationwide. For more information regarding PoolWorx℠ and our online landscape design services contact Sarah Hernandez or visit our website at http://www.onlinelandscapedesign.com.
###