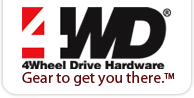 Columbiana, OH (PRWEB) January 27, 2012
4Wheel Drive Hardware, the nation's largest distributor of Jeep parts and accessories, now offers an expanded selection of products for Jeepers who love to showcase their passion for Jeeps and off-roading. This large assortment of Jeep decals, Jeep clothing, and related products is another way for 4Wheel Drive Hardware to support the Jeep lifestyle.
Jeep decals are designed to promote a driver's favorite products, stores, and even Jeep-related jokes. Owning a Jeep these days just is not enough – true Jeepers like to showcase their loyalty to the manufacturers and retailers that support the off-road lifestyle. 4Wheel Drive Hardware decals are popular, for example, because the company is such a large supplier of lift kits, Jeep wheels, and Jeep accessories. Other best-selling Jeep decals show off a Jeeper's sense of humor. Most Jeep enthusiasts agree that they don't like to find themselves upside down on the trail. This sentiment is expressed perfectly with a decal that displays this message in upside-down text: "If you can read this…roll me over." Jeep-branded decals are a popular choice for Jeep enthusiasts who own a second car for daily driving.
Jeep clothing is another way to emphasize one's love for all things Jeep. Jeep shirts are available in many styles, including t-shirts and tank tops that are both comfortable and Jeep friendly. These shirts carry slogans such as: "Toughest 4-Letter Word on Wheels – Jeep." For colder climates, 4Wheel Drive Hardware also carries Jeep jackets and sweatshirts, including options that support the efforts of 4Wheel Drive Hardware's Crawl to Cure Cancer. Jeep hats, caps, and beanies are also available.
4Wheel Drive Hardware's Jeep products extend beyond the vehicle so Jeepers can represent the Jeep lifestyle even when they are away from their vehicles. At work, a Jeep coffee cup definitely adds style to any cubicle. Everyone has a set of keys, so it only makes sense to keep them organized on a Jeep keychain. Another option is a blank key engraved with the Jeep logo. This can then be cut to fit the lock for the house, mailbox, or anything else. Home accessories available from 4Wheel Drive Hardware include Jeep signs and Jeep light switch plates.
4Wheel Drive Hardware offers competitive pricing on all Jeep parts and accessories, including Jeep decals, Jeep clothing, and other Jeep lifestyle products. For more information on these Jeep parts, call 800-555-3353 or visit 4WD.com.
About 4Wheel Drive Hardware: 4Wheel Drive Hardware is a top industry provider of Jeep parts and accessories, with a focus and passion for the off-road industry. Find all the latest Jeep products to support the full Jeep lifestyle at 4WD.com.
###