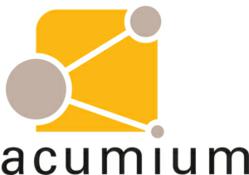 Madison, WI (PRWEB) January 31, 2012
Acumium LLC, a leader in eCommerce and Content Management software and e-Business consulting, celebrated its 10th year in 2011 and is announcing an expansion of its products and services in 2012. One of the most notable changes is the addition of the GravityMarket eCommerce platform (serving mid-market e-tailers) to its portfolio of software as a service (SaaS) products. As a result, Acumium will have a SaaS offering for its base Acumium WCMS, Enterprise eCommerce AND mid-market eCommerce customers.
Benefits of SaaS include:
More accurate budgeting of your web development spending
Quicker access to advancements in the platform and services should you opt-in
Opportunity to contribute to the list of new platform features and enhancements
One price covering hosting, support, maintenance, new standard features and more.
Other 2012 offerings include:
Optimized eCommerce websites for tablets (e.g. iPad and Kindle)
Simplified and optimized sites for effective delivery on smaller mobile devices
Integrated Online Marketing services
Enhanced Security monitoring services
Acumium made significant investments in 2011 so the 2012 offers are possible.
Optimization: Acumium has a streamlined process in place integrating with Content Delivery Networks (CDN) for website optimization. Acumium also vastly improved deliverability, open and download rates for its SaaS GravityMail customers
Security: As an eCommerce consultant and vendor it is vital to stay on top of PCI (Personal Credit Information) Compliance issues so encryption and security has and will remain the top priority at Acumium. Security service offerings are options for customers who want to further utilize Acumium's expertise.
2011 Notables:
Acumium's platforms and search engine optimization advice continued to put its customers higher in search engine rankings. Google's releases of the search engine algorithm "Panda" hurt the search results rankings of many, but the Spring and Summer Panda releases have actually helped Acumium's clients improve their search engine rankings and generate on average, a 5.8% increase of organic traffic to their websites.
About Acumium
Founded in 2001 and based in Madison, Wisconsin, Acumium provides e-business solutions to a global customer base to optimize website performance. Acumium provides e-business strategy consulting and builds client websites on its Web Content Management Systems (WCMS) and eCommerce platforms so they can manage their businesses more effectively. eMarketing software and services, Analytics and other related services round out the Acumium portfolio. To learn more about Acumium, please visit http://www.acumium.com or email sales(at)acumium(dot)com.
###