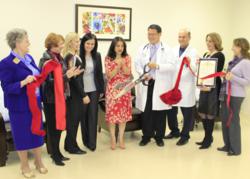 Glendale, CA (PRWEB) January 27, 2012
The Oncology Institute of Hope and Innovation is proud to announce the opening of a new Glendale infusion center, which has been in development for some time and has now been opened to all cancer patients.
The Grand Opening took place on Thursday, January 19th, with Glendale Chamber of Commerce in presence. The new infusion center equipped with the state of the art medical equipment and it is conveniently located close to Glendale Memorial Hospital. Dr. Stephen Huang, the primary specialist at the Glendale location, said that '"This community deserves a cancer clinic that treats the whole person, using state-of-the-art therapies and delivering them with compassion." Dr. Huang is known for his ability to listen to his patients, explaining highly complex treatment options without complex jargon.
The Oncology Institute of Hope and Innovation has grown to have a network of sixteen board-certified Oncologists and ten oncology-certified mid-level practitioners to facilitate quality patient care. Azaliya Musina, Marketing Director, believes that this growth is mainly attributed to the exemplary customer service, friendly environment and esteemed physicians. In a survey, conducted last month, ninety seven percent of patients rated the practice as "very good" or "excellent". In 2010, The Institute was the recipients of the Hope Award for Practice Excellence.
About the institute:
The Oncology Institute of Hope and Innovation is committed to providing superior, compassionate and state-of-the-art medical care. Offering programs to help patients and families cope with the challenges that are brought on by cancer and strive to optimize their quality of life, comprehensive and realistic treatment goals are tailored to every person's unique needs and decided upon in partnership with the patients and their families. Dedicated to excel in cancer prevention, diagnosis and education through our exceptional team of physicians, nurse practitioners, nurses, medical assistants and office staff, The Oncology Institute of Hope and Innovation has 10 Southern California locations in the cities of Anaheim, Downey, Glendale, La Mirada, Long Beach, Lynwood, Montebello, Torrance, Whittier, and Glendale. For more information please visit http://www.theoncologyinstitute.com.
###