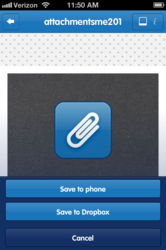 San Francisco, CA (PRWEB) January 25, 2012
Attachments.me just released a new version of their iPhone application which already brought better attachment search to the phone. The new release brings integration with Dropbox. Now users can quickly find their email attachments and save them to Dropbox, all without pulling the attachment onto the phone. This not only makes the action faster, it also means the user doesn't use up data on their mobile plan by pulling potentially large files onto the phone.
The release is an interesting move for Attachments.me. It moves them beyond just being a better discovery engine for attachments and allows their users to take action on their files. The application helps move businesses and consumers one step closer to being able to be completely in the cloud.
The iPhone application is available now, is free, and works for all Gmail users.
###