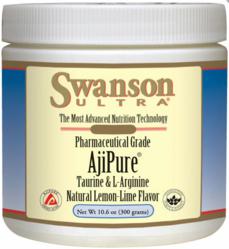 Fargo, ND (PRWEB) January 26, 2012
In anticipation of February, National Heart Health Month, Swanson Health Products has compiled a list of products that support cardiovascular health. In addition to a balanced diet and regular exercise, the following supplements support the heart as well as peripheral organs that are essential for cardiovascular health:

AjiPure Taurine & L-Arginine Powder: Combined, the amino acids taurine and L-arginine provide benefits for cardiovascular health that cannot be achieved independently. Swanson Ultra pharmaceutical-grade AjiPure Taurine and L-Arginine are featured in the optimal 2-to-1 ratio for cardiovascular wellness in an all-natural, lemon and lime flavored powder.
Swanson EFAs 100% Krill Oil featuring Superba™ Oil: Superba krill oil delivers both EPA and DHA omega-3s for complete essential fatty acid nutrition for cardiovascular support. This phospholipid form of krill oil allows the EPA and DHA to be taken up directly into cell membranes, dramatically enhancing bioavailability.
Swanson Ultra TMG: Trimethylglycine (TMG) protects the cardiovascular system by neutralizing homocysteine. An added benefit: TMG delivers valuable nutritional support for healthy liver function.
Swanson Premium Beta Sitosterol: Sitosterol works naturally within the body to help promote cardiovascular health. The Swanson Premium Beta Sitosterol formula includes the plant sterols beta sitosterol, campesterol and stigmasterol for broad-spectrum phytosterol nutrition.
Swanson Premium Lecithin: The Swanson Premium Lecithin formula delivers all-natural support for your heart, liver and brain. This fat emulsifier supports healthy lipid levels and is a source of phosphatidylcholine, which is a vital nutrient for brain and liver function.
Other healthy heart tips:

Be smoke-free – Cease smoking and avoid second-hand cigarette smoke
Be mindful of diet – Eat fruits, vegetables, legumes, whole grains and fish while avoiding fats from meat, dairy and processed foods
Be active – Exercise regularly
Swanson Health Products is an industry leader in bringing vitamins directly to consumers at the lowest prices possible. Swanson Health Products, headquartered in Fargo, ND, offers the highest quality vitamins, supplements and natural health care products and is Good Manufacturing Practices certified. Swanson Health Products goes a step beyond its competitors by offering powerful guarantees. All products are backed by a 100% Satisfaction, Money-Back Guarantee. For more information, please visit http://www.swansonvitamins.com.
# # #