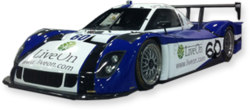 (PRWEB) January 26, 2012
This weekend, LiveOn hopes to help Michael Shank Racing turn the Rolex 24 into a victory they can tell the grandkids about. The website, which shares your most important memories and achievements with future generations, recently partnered with the team for the race.
"We think LiveOn is a natural fit with Michael Shank's team," says LiveOn Founder and CEO Jonathan Whistman. "They're about making the most of opportunities and ultimately making memories that will be talked about for many, many years. That's exactly what our site is about."
Whistman has one thing right: the team is definitely on track to make the most of this opportunity. The LiveOn #60 Ford/Riley was the fastest Ford at testing earlier this month, driven by John Pew, Ozz Negri, AJ Allmendinger and Justin Wilson. The foursome looks to harness the same stealth and speed this weekend, starting off the season with a foot toward the championship and Pew's third-straight Trueman Award.
Fans who are interested in experiencing Pew's exciting and award-studded career can find it showcased on LiveOn, where photos, videos and Pew's own commentary are accessible from his interactive Timeline. MSR Spokesman Matt Cleary thinks fans will also find LiveOn's other features just as meaningful.
"LiveOn is a unique offering on the web, allowing users to control their legacy. The site looks to answer a question--where will all your most important memories end up, and will they be around for the future? Much more than an electronic scrapbook or photo storage site, LiveOn serves as a chance to catalogue wisdom and advice to future generations, creating a dynamic time capsule experience that will be protected for generations to come."
Tune in to SPEED TV at 3:30 EST to watch LiveOn's car lap the competition, and visit LiveOn and Michael Shank Racing for more information.
# # #