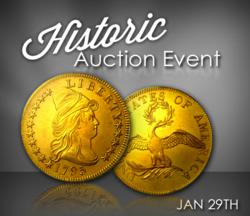 TEHACHAPI, CA (PRWEB) January 25, 2012
A strong candidate for top lot of the 2,000-lot sale is a 1795 13-leaves $10 gold eagle coin. Fewer than 5,100 gold eagle coins were minted in 1795 – some with the eagle grasping a branch with 13 leaves and others with nine leaves. Only 400 to 500 examples of the 13-leaves coin are known to exist. These coins hold strong interest with collectors because they were the first U.S. gold eagle coins to be stamped. Designed by Robert Scott, each weighs 17.5 grams and has 91.7% gold content. The coin in Government Auction's sale is graded NGC AU by Numismatic Guaranty Corp., and is expected to make $123,000-$246,000.
Additional coin highlights include an 1882-CC $20 Liberty Head coin, est. $37,500-$75,000; and a 901-S Barber 25-cent coin, est. $70,500-$141,000.
Several truly exquisite necklaces are entered in the auction. An 18K yellow gold necklace with 36.15 carats of genuine Ceylon cabochon sapphires and 3.5 carats of diamonds could fetch $32,000-$64,000; while a striking 6.68 carat diamond sweetheart necklace with 18K white gold is estimated at $25,000-$51,000. The diamond necklace is sure to be popular with hearts and love design.
For antique music lover collectors the auction will feature 1940s Rock-Ola jukebox. The classic jukebox plays 78 records and exudes visual appeal with its colorful, illuminating Art Deco façade. Estimate: $5,100-$10,200. Also up for bidding are a rare Polyphon music box in immaculate condition carries an estimate of $10,500-$21,000, and a Regina upright music box in mint condition and accompanied by 15 discs with an estimate of $57,000-$114,000.
Sports fans won't want to miss the opportunity to bid on a custom-matted and framed collage of autographs, images and collector sports cards representing the athletes known collectively as the "NBA 60 Greatest Players." Among the superstars included in the collage are Michael Jordan, Wilt Chamberlain, "Pistol" Pete Maravich, Larry Bird, Magic Johnson, Kobe Bryant, Julius "Dr. J" Erving, Kareem Abdul-Jabbar, Shaquille O'Neal and many others . An estimate of $14,997-$29,994 has been set on this lot.
Government Auction's Jan. 29, 2012 Historic Government Seized Assets Sale will commence at 7:30 a.m. Pacific Time/10:30 a.m. Eastern Time. Absentee, phone and Internet live bidding through LiveAuctioneers.com will be available. For additional information on any lot in the sale, call Debbie on 661-823-1543 or e-mail info(at)governmentauction(dot)com.
View the fully illustrated catalog and sign up to bid absentee or live via the Internet at
http://www.liveauctioneers.com/catalog/28161_historic-gov-auction-seized-assets-sale/page1
About Government Auction
Government Auction is a private company, the largest company of its kind to acquire literally thousands of properties and assets. In most cases we acquire these properties and assets at 30% - 50% of actual retail value. This enables potential buyers throughout the world to buy land and invest in assets at discounted pricing.
Contact Info:
Chris Budge
Marketing Representative
Government Auction
Phone: 661-823-1543
###