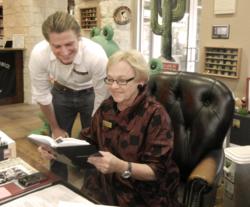 We want to allow the soldiers to make an Expressionary for their family, so when they are away, their family can look at it together and see exactly how much that soldier loves their family.
Atlanta, GA (PRWEB) January 26, 2012
The Expressionary, an online personalized gift company, has begun its mission of donating 1,000 of its beautifully designed personalized dictionaries -- Expressionaries -- to seriously wounded servicemen and women, deploying troops, and their families.
Expressionary President William Mehserle was on hand at Fort Sam Houston and Brooks Army Medical Center (BAMC), Texas, to personally hand over some Expressionaries and demonstrate how "Wounded Warriors" can create their own Expressionary as a thoughtful, meaningful gift for their families.
The Warrior and Family Support Center (W&FSC) is a facility at Fort Sam Houston, and is designed to meet physical and emotional needs of America's heroes -- our "Wounded Warriors." The W&FSC makes a profound contribution to the rehabilitation of America's seriously wounded Soldiers, Marines, Sailors, Airmen, National Guard Reservists and their loved ones.
The W&FSC supports many Iraq and Afghanistan war veterans with extensive burn injuries, loss of limbs, head and internal injuries, along with their families.
"Wounded Warriors" and their families who are eligible for one of the donated Expressionaries can claim them by navigating to theExpressionary.com, create their custom product and using the code provided to them. Those interacting with W&FSC can simply talk with the director if they need help. Each deploying troop out of Fort Sam Houston and their families will receive notice of the possibility to create one.
The 1000-Expressionary donation equates to a value of over $26,000 and was coordinated by the Expressionary and W&FSC. The Expressionary is dedicated to giving back to those less fortunate, and is committed to donating at least 10% of its profits to charity.
"A lot of soldiers aren't good at expressing themselves," said W&FSC Assistant Director John Wolf. "They want to be, but it is difficult. When these guys come back from war with an injury of this kind of magnitude, they are here for 1, maybe 2 years. These guys have to learn to walk again, they have PTSD (Post-traumatic stress disorder) -- and rehabilitation can be frustrating -- and sometimes this flows into their personal relationships. Their family is here, helping them through the rehabilitation. They suffer as well. And these troops, they want to show how much they appreciate the family being there for them. This is exactly a way to do that."
Expressionaries are helping soldiers express to their loved ones exactly how they feel about them. "Man, my wife is really gonna appreciate this. She has been by my side since I got back." said Sgt Daniel Romero. "That is just so easy, and so thoughtful. Thanks, I've been wanting to show her how I feel."
"When the soldier leaves for deployment, it is not just the soldier who experiences pain, but his or her spouse, their children, and their parents. We want to allow the soldiers to make an Expressionary for their family, so when they are away, their family can look at it together and see exactly how much that soldier loves their family," said Mehserle. "In addition, we wanted to allow the families to make one for their soldier, so that after a long day out in combat, they can return home, lay on their cot, exhausted, and leaf through their Expressionary and smile when they see the words the family used to describe him and his family."
Mehserle's experience at the W&FSC was an eye-opening one, and left inspired by the soldiers who radiate positivity despite their injuries. "Their families are waiting for them to be done with rehab. Giving 1000 Expressionaries is the least we can do. Hopefully someday soon, we can give more," he added.
Information on W&FSC is available at http://www.returningheroeshome.org/
Use of the W&FSC and BAMC names, logos, descriptions, and/or their weblinks do not constitute an expressed or implied endorsement or favoring of Expressionary by the US Army or the DoD.
About The Expressionary
Expressionary, LLC – a subsidiary of M&W, LLC – was founded in September 2011 by William L. Mehserle, Jr. and Michael J. Flanigan, both graduates of Georgia Tech. The company's website, theExpressionary.com, launched in open beta on Nov. 23, 2011. The Expressionary concept was born during Mehserle's high school years, as he was searching for a sentimental and meaningful gift for his then girlfriend. He purchased a dictionary, and pasted his favorite photo of her beneath the words that he felt best described her and their relationship. The full backstory can be found at The Expressionary's website.
An Expressionary is a luxury personalized dictionary containing fine paper pages, beautiful covers, a letter in the front of the dictionary explaining the concept and high-quality photos. Additionally, The Expressionary is committed to donating at least 10% of all profits to charity. Customers can choose which of The Expressionary's charity partners they'd like a donation to go to.
# # #