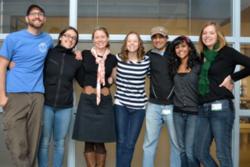 Denver, CO (PRWEB) January 26, 2012
Does discrimination against minorities in health care exist? Does that discrimination negatively affect the health of those patients? An innovative research group -- which recently completed a study involving African-American and Latino residents in Northeast Park Hill, Greater Park Hill, East Montclair and Northwest Aurora -- will tell you emphatically that it does. Representatives from the group will present their findings at the 2040 Health Summit on Saturday, February 4 at 8:00 a.m. – 1:30 p.m., at the Denver School of the Arts, 7111 E. Montview, Denver, CO. The Summit is free and open to the public.
The group, dubbed a Communiversity Action Network (CAN), is composed of seven medical students and seven community members from the neighborhoods of research. Together, they conducted six focus groups, three with African-Americans and three with Latinos, that clearly demonstrate how discrimination in healthcare is a complex problem that will require changes in behavior from both patients and providers in order to be solved. It is the first such community-participatory study known to have been conducted by medical students.
The seven students are in their second year of medical school at Colorado University School of Medicine and are members of an academic track that prepares future physicians and other health professionals for work in urban, underserved communities. Community participants are diverse in terms of ethnicity, race, gender, social class and education and include community representatives with extensive experience in community organizing, liaisons to local non-profits, and representatives of the Office of Diversity and Inclusion at the University of Colorado School of Medicine.
The discrimination topic has proven to be of interest to the broader medical community. While some CAN members will present at the 2040 event, others will be delivering a presentation about their research partnership at a conference on medical student education in Long Beach, CA.
One of the students, Clinton McBride, said that the group has "resisted the urge many of us feel to design an approach to make change in the health care system before developing a detailed understanding of the complex issues involved." Together, community members and students are using data from focus groups and information from other sources to explore what kinds of positive change is possible in their community.
Janet Meredith, executive director of 2040 Partners for Health, which is organizing the Summit, said, "This is an amazing group. Their concern and passion on such a key issue, and their ability to work with the community to make changes in the system is very impressive. It's an honor to work with the students and the community members involved in this project."
Tillman Farley, MD, Associate Professor of Family Medicine at the University of Colorado, Executive Vice President for Medical Services at Salud Family Health Centers, and faculty advisor for the students' project, said: "Discrimination in healthcare is a very important area of study if we are serious about correcting health disparities in the United States. This project has real potential not only to further our understanding of discrimination, but also to use that information to change the way we train physicians. I am impressed every day by the dedication, passion, and commitment to social justice that I see in the students and the community members working on this project."
Keynote speaker for the Summit is State Senator Irene Aguilar, MD, addressing the importance of community involvement in health care change. In addition, the Latino Aging Wave Initiative will discuss important research focusing on the aging Latino population.
Participants at the Summit will learn where to find mental health resources; how insurance exchanges will affect individuals and families; and what can be done to reduce discrimination in health care, among other topics. Summit participants will also have the opportunity to provide input on proposed changes to state policies on aging and long-term care. They will also hear about the Health Stories project being conducted by the Colorado Coalition for the Medically Underserved, and have an opportunity to sign up to tell their stories.
A free lunch will be provided, but space is limited and reservations are required. Reservations are available at summit(at)2040health(dot)org, or 303-468-3241.
###