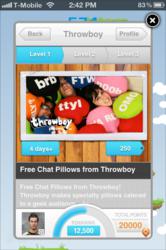 San Francisco (PRWEB) January 25, 2012
One of PopCap's original developers, Roy Liu, has launched a new incentives platform for mobile app developers aimed at boosting in-app revenue by incentivizing game players with real rewards. The company, Gimmie, launches its in-game incentives program today in beta with ten mobile app developers and ten consumer product brands. Developers interested in learning more can visit http://www.gimmieworld.com.
Liu, who served as lead developer for Plants vs. Zombies, one of PopCap's most popular titles, teamed up with co-founder and CEO David Ng, who hails from ChinaCache. The two mobile entrepreneurs saw a clear opportunity to turn brand promotions into in-game incentives without distracting game players with ads that force them to leave a game altogether. Liu was familiar with incentive platforms while at PopCap, but these methods required users to leave the app to download an unrelated game or fill out a survey in exchange for benefits in the original app. With Gimmie, Liu and Ng decided to work in reverse, and focus on rewarding users with items outside the app for performing actions within it.
"The biggest part of developing a good mobile game is creating the best user experience, and so often mobile ads get in the way of this," said Jason Citron, founder of OpenFeint. "Gimmie is the first monetization platform I've seen that doesn't interfere with the game, and it provides a whole new way to help developers increase engagement that is fun for everyone. It's a dramatically different approach from any other platform I've seen."
How Gimmie Works:
Through sustained app use, mobile app users earn Gimmie points, which they can save and redeem for free and discounted real world products. Gimmie's platform provides users with a marketplace where they can shop for any rewards they want. By further incentivizing existing hooks within an app, Gimmie motivates users to take desired actions, such as buying virtual goods, signing up for newsletters or advancing to higher levels.
Gimmie puts the control on all this in the hands of the developer, rather than relying on unpredictable third-party ads. Developers can implement Gimmie's in-app incentives program in just minutes and can determine exactly how and when to issue Gimmie points to properly incentivize their users.
Gimmie also allows its brand partners to target those mobile app users they wish to reach with multiple options for coupons and free products, and to amplify this consumer engagement over Facebook and other social media channels.
"Gimmie has great potential to help all developers, especially those with freemium games. By allowing developers to give out points and rewards to their users, Gimmie creates a whole new type of stickiness and opportunity to sell more in app purchases," said Peter Relan, founder of YouWeb and cofounder of OpenFeint, CrowdStar and Spaceport. "Gimmie has the chance to provide a far greater revenue boost than traditional advertising."
"Users love Gimmie because we give them the ability to shop for a reward of their choice," said David Ng, CEO and co-founder of Gimmie. "As in traditional arcades, users not only have fun playing games, but also gain enjoyment in knowing they can choose a reward right away or save up for something even better in our rewards store."
Gimmie is also announcing that it has raised $200,000 in seed capital funding from Tandem, Silicon Valley's mobile industry incubator. Gimmie is the second company to launch out of Silicon Valley mobile incubator Tandem's second fund. Tandem's investment and growth strategy is based on the concept of "muscle capital," a mix of focused support and cash investment that it contributes to a select group of entrepreneurs.
To find more about Gimmie and download its SDK, visit: http://www.gimmieworld.com
About Gimmie:
Gimmie is a new way for brands to reach millions of mobile gamers. Our mission is to provide a platform to enable a complementary revenue boost for developers and a more cost effective way to acquire customers on mobile for brands. Founded in late 2011 in San Francisco, our team has developed 'game of the year' titles on mobile. We're passionate about gaming, shopping and apps. Come visit us at:
http://www.gimmieworld.com
About Tandem:
Started in June 2007 by veteran technology entrepreneurs Doug Renert and Sunil Bhargava, Tandem is Silicon Valley's mobile industry incubator. They back a select group of entrepreneurs with "muscle capital," a unique mix of cash funding and hands-on support in areas such as strategy, product design, technology architecture, user acquisition, employee recruiting and channel development.
For more information, please visit: http://www.tandemcap.com
###