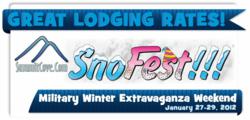 SummitCove Vacation Lodging is also celebrating SnowFest with last minute discounts on lodging
Keystone, CO (PRWEB) January 25, 2012
Keystone Resort will welcome the Annual Military SnoFest this weekend from Friday, January 27th to Sunday, January 29th.
The event is hosted by Front Range Military bases, and features special lodging deals, discounted lift tickets, ski and snowboard races, wine and beer tastings, sleigh rides, gondola rides, live music and much more.
Keystone Resort is well known for its world class skiing and snowboarding. Military members will receive $54 adult lift tickets, $35 children's tickets, and $50 tickets are available for Cadets and Prep students. These tickets may be purchased at local ITT/ITR or ORC offices prioer to the event. They will also be available at the Mountain House base on Friday and Saturday from 7:30a.m to 4 p.m.
SummitCove Vacation Lodging is celebrating SnoFest with last minute discounts on lodging. SnoFest Reservations are eligible for a 25% discount for members of the military community. With 290 unique properties to choose from, guests of SummitCove are able to pick the exact property that they stay in. Most properties feature fireplaces, hot tub and pool access, full kitchens, spacious living rooms and ski lockers to store gear! Discounts are also available for SummitCove guests through our partners and our exclusive Key to Keystone coupon book.
###