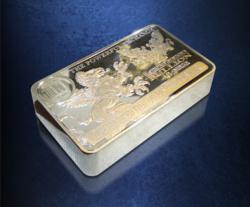 We want to provide our clients with a valuable investment while introducing them to the world of fine art
Portland, Oregon (PRWEB) January 26, 2012
Masterpiece Investment Corporation, a leader in the fine art marketplace, announces the newest addition to the company; the Bullion Division. The new division will, for the first time, enable collectors to own art from the celebrated and renowned sculptor and painter, Lorenzo Ghiglieri, in the form of pure silver. To commemorate the company's initial offering, early investors will be given rebate certificates with entitlement to monthly rebates based on profits earned, up to 100% of the purchase price.
"As with any new business venture, in order to be truly successful it's important to be first and different. This is especially true in the bullion industry," said Mark Ghiglieri, CEO and founder of Masterpiece Investments. "We want to provide our clients with a valuable investment while introducing them to the world of fine art."
The Bullion Division of MPI is minting two products, in limited edition, for collector purchase. The first, a 100-ounce, solid .999 silver bar will be limited to just 1,000 in production; each struck in the bottom right-hand corner with its edition number. The silver bar will be emblazed with one of Lorenzo Ghiglieri's most commanding sculptures, 'The Powerful Exchange', a long-standing financial symbol of a Bull rivaling a Bear. The second product is the 'North American Wildlife Series' which features a set of seven, 1-ounce solid .999 silver coins. Each coin features one of Lorenzo Ghiglieri's most notable North American Wildlife pieces. A total of 10,000 will be produced per coin.
While the 100-ounce bars and 1-ounce rounds have the potential to surpass market price over time, investors in the silver bars can begin collecting rebates directly from Masterpiece Investments with a Rebate Certificate. A Silver Certificate will accompany each of the 100-ounce silver bars and serve as both a Certificate of Authenticity as well as a Rebate Certificate. The Certificate notes the amount of maximum rebate payout to its owner, and is paid monthly from a portion of the profits generated by the 'North American Wildlife' coins.
"The most valuable silver bullion has grown exponentially over several decades. Our mission is for Collectors to have a fine piece of art to enjoy today, while growing an investment for the future" said Mark Ghiglieri.
About Masterpiece Investment Corporation
Masterpiece Investments Corporation (MPI) is a leader in the fine art market-place and includes six divisions: the Fine Art Gallery Division, the Charitable Division, the Bullion Division, Masterpiece Galleries through the Patron Company, the Additive Workshop Subsidiary Division and the Chiurazzi Foundry Subsidiary Division. The Bullion Division of MPI offers collectors the opportunity to own masterful works from renowned and celebrated artist Lorenzo Ghiglieri in pure gold and silver. For more information visit http://www.mpibullion.com/.
Contact Information, Press Only:
Amber Moore
amber(at)moorecom2(dot)com
503.943.9381
###