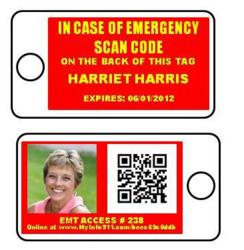 Palm Coast, Fl. (PRWEB) January 30, 2012
MyInfo911 learned early on that in the face of a medical emergency, victims often have no way to communicate pertinent information about their medical history that can assist first responders in providing care that is both timely and accurate.
Vehicular accidents are among the most common emergency situations, so prevalent that according to the National Highway Traffic Safety Administration ( NHTSA), over 27% of all drivers had been involved in a vehicular accident in the US in the past 5 years. Some 2.3 million visits to the ER in 2009 alone, were directly attributable to vehicular accidents, according to the CDC (Center for Disease Control). Myinfo911 also learned that motorcycle accidents have more than doubled from 1999 to the present, putting those folks particularly at risk.
All ready one of the leading pioneers in the application of state of the art technology utilizing the Quick Response (QR) Code, MyInfo911 constantly strives to improve their service and introduce new products to better meet the needs of victims of vehicular accidents and all other medical emergencies.
First, MyInfo911 developed their revolutionary Emergency ID card, which provides the subscriber's photo, name, year of birth, contact info of next of kin, and critical medical information that should be immediately conveyed to emergency personnel, such conditions as diabetes, seizures, or serious allergies. The company later added the Emergency ID sticker which adheres to an automobile, bicycle, motorcycle, boat, helmet, etc. Now, MyInfo911 is proud to introduce its Key Tag ID card, which when placed on the key chain, makes it especially prominent in the case of a vehicular accident.
The special QR code present on all MyInfo911 products, can be scanned with any smart phone, allowing first responders instant access to the detailed medical history of the cardholder. The next of kin of the cardholder is also alerted when the code is scanned.
About MyInfo911
Started in October 2010, MyInfo911 provides emergency identification cards that use QR codes to provide pertinent medical history information to first responders and other medical providers. The Palm Coast, Florida based company's cards have the person's picture, name and QR code on the front and the person's name, year of birth, emergency contact, blood type, allergies and specific medical conditions on the back. For more information visit https://www.myinfo911.com
###