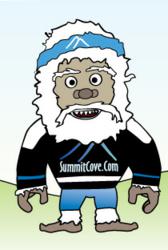 For the 2nd year in a row, SummitCove Vacation Rentals is proud to sponsor the 2012 Yeti Chase.
Keystone, CO (PRWEB) January 26, 2012
SummitCove Vacation Rentals will sponsor the Annual Yeti Chase for the 2nd year in a row. The 5k and 10k Yeti Chase is put on by Racing Underground, and will take place on Saturday, January 28th on the West side of metropolitan Denver at the Bear Creek Lake Park.
The Yeti Chase will span 2,500 acres with a combination of flat surfaces and rolling hills in each race. The race offers plenty of entertainment for participants and observers alike. Those participating in the race will receive a commemorative shirt, goody bag, hot chocolate and post-race snacks.
Look for the Yeti in his SummitCove hockey jersey and be sure to snap a photo with him. Those who enter a photo in the SummitCove contest will be eligible to win a free summer stay in Keystone. Simply have a photo taken with the Yeti on race morning, and then tag the photo on the Summit Cove Facebook page no later than noon on Thursday February 2nd to be entered to win.
The winner will be announced on the SummitCove and Racing Underground Facebook pages the week after the race. The Yeti Chase photo contest winner can reserve Keystone lodging at anytime between April 15 and October 15, 2012. This is the perfect time to enjoy a getaway to the mountains, with miles of trails, hiking, biking, shopping, fishing, and more!
# # #