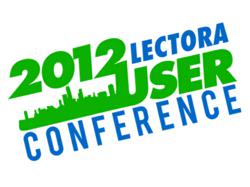 This new offering provides a more comprehensive agenda for attendees and enables exhibitors to connect with e-Learning professionals in an intimate, exclusive setting
Cincinnati (PRWEB) January 26, 2012
The 2012 Lectora® User Conference announces that for the first time ever, the Lectora User Conference invites exhibitors to join the annual e-Learning conference. The addition of exhibitors brings vendors together with conference attendees to connect the best and most appropriate e-Learning products and services with the unique needs of each attendee.
"By adding exhibitors to this year's conference program, attendees can now easily gain convenient access to quality products and services that enhance their use of the Lectora line of products," said Peter Bray, Chief Marketing Officer at Trivantis Corporation. "This new offering provides a more comprehensive agenda for attendees and enables exhibitors to connect with e-Learning professionals in an intimate, exclusive setting."
Exhibitors have the opportunity to sponsor on multiple beneficial levels. Sponsorship opportunities include premier location and signage with Gold Level Sponsor Exhibitor opportunities, closing celebration sponsorship, category exclusivity and much more.
Several exhibitor packages have already been sold and only two Gold Level Sponsor Exhibitor packages are still available. All exhibit opportunities are only available on a first-come, first-served basis; prospective exhibitors are encouraged to secure sponsorship as early as possible.
For more information about the opportunity to exhibit at the 2012 Lectora User Conference, please contact LUC2012(at)trivantis(dot)com or visit Lectora User Conference Exhibitors.
The eighth annual Lectora User Conference provides exclusive access to keynote presentations, dozens of e-Learning break-out sessions and unique networking opportunities to share best practices and expertise for e-Learning development and implementation.
For more information about the 2012 Lectora User Conference, please visit: 2012 Lectora User Conference.
About The Lectora User Conference and Trivantis Corporation
The Lectora User Conference is a leading e-Learning industry event that attracts professionals from around the world to advance their development skills, increase their e-Learning knowledge and network with other e-Learning professionals. As the flagship product for Trivantis, Lectora® is the world's leading e-Learning software used by most Global 2000 companies in more than 125 countries and is offered in six languages. The Lectora line of e-Learning products includes Lectora Inspire, Lectora Online, Lectora Publisher and Lectora Integrator. Trivantis also produces Flypaper™, the leading Flash content creation platform that empowers users to create, edit, share, track and reuse high-impact Flash and video content. Snap! by Lectora® is the easy-to-use PowerPoint plug-in rapid e-Learning software that converts PowerPoint to Flash. Its sister product, Snap! EmpowerTM Flash interactions builder, enables anyone to create Flash content without having to know Flash programming. To round out the Trivantis family of products, CourseMill is the powerful and affordable learning management system (LMS). Headquartered in Cincinnati, Ohio, Trivantis Corporation also has offices in Boca Raton, Phoenix, Paris and London. Trivantis, Lectora, Flypaper, CourseMill, Snap! by Lectora and Snap! Empower are trademarks of Trivantis Corporation.
Website: http://www.Trivantis.com
Phone: 877.929.0188
Facebook: facebook.com/Trivantis & facebook.com/SnapByLectora
Twitter: twitter.com/Lectora
Blog: trivantis.com/blog & SNAPbyLectora.com/e-Learning-blog
###