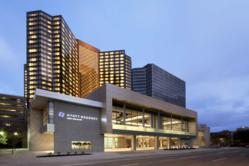 MORRISTOWN, NJ (PRWEB) January 26, 2012
After being shuttered for more than six years, following the devastation of Hurricane Katrina, Hyatt Regency New Orleans recently reopened following a $275 million redesign and revitalization.
The 1,193-room hotel offers the city's largest hotel event space, doubled to 200,000 square feet and features Schindler Elevator Corporation's award-winning PORT (Personal Occupant Requirement Terminal) Technology to help move the thousands of guests who pass through the building's 32 floors every day faster and more efficiently.
Schindler recently completed the installation of its PORT destination-dispatch system on eight high-rise passenger elevators at Hyatt Regency New Orleans. Unique to the hotel is that each guest's room key is programmed automatically upon check-in to provide customized elevator access. When guests swipe their room key at the PORT device, an elevator is automatically called to take them to the hotel floor where they will be staying. Due to the PORT system's advanced access control, guests receive customized mobility throughout the hotel from the moment they first reach the elevator bank. It is the first building in Louisiana to benefit from the power of Schindler's PORT Technology and the first hotel in the United States with a building security system seamlessly integrated with elevator access control at every floor.
Best understood as the central nervous system of a building, PORT Technology functions as a two-way communication interface between the occupants and the hotel's environment. The system's visible aspect is a sleek, futuristic interface positioned at access points and elevators around the building. Behind the stylish touch screen is a powerful software system, capable not only of calculating the optimum route to any destination within the building, but also of "learning" how its occupants typically move around. With this information, PORT Technology primes the elevators to direct and transport people quickly and safely to their individual destinations. Furthermore, Schindler's patented technology works with RFID badges to identify passengers and call elevators for personal service.
"The PORT Technology makes possible a truly networked environment at Hyatt Regency New Orleans that recognizes occupants and responds to their individual needs," says Michael Landis, vice president, Marketing for Schindler. "What makes the system special is the ease with which the hotel's managers can design applications to accommodate a wide range of needs in real time. Whether it's helping to meet new energy-efficiency goals, updating security, scheduling maintenance or adapting to people with special needs, unprecedented levels of customization can be achieved."
"The revitalized Hyatt Regency New Orleans offers guests the latest in technology and the new PORT Technology represents the advances that we have made to provide our guests with an optimal experience." noted Michael Smith, general manager, Hyatt Regency New Orleans. "This system is innovative and efficient which are both key in providing great customer service."
PORT Technology Energy-Saving Features
o Each PORT terminal's proximity sensor tells it when to be active and at all other times puts it into low energy consumption mode.
o When the terminal screen illuminates, an ambient light sensor determines only the brightness level required, again optimizing energy usage.
o The PORT Technology helps ensure elevator trips are as efficient as possible. This produces a very resourceful use of energy even during heavy traffic.
About Hyatt Regency New Orleans
Hyatt Regency New Orleans re-opened on October 19, 2011 after a $275 million redesign and revitalization featuring 1,193 guest rooms and suites, 200,000 square feet of meeting and event space, expansive food and beverage offerings, and unprecedented service. Located downtown on Loyola Avenue, the hotel is adjacent to the Mercedes-Benz Superdome and anchors the vibrant Sports and Entertainment District. Hyatt Regency New Orleans borders the new Medical District, the Arts & Entertainment District and is just blocks from the French Quarter, Ernest N. Morial Convention Center and the Mississippi Riverfront. For reservations and additional information, please call 888.591.1234 or visit http://www.neworleans.hyatt.com.
About Schindler Elevator Corporation
Schindler Elevator Corporation is the North American operation of the Switzerland-based Schindler Group, a leading global mobility provider with approximately 43,000 employees operating in more than 100 countries. Schindler supports sustainable urban development with safe, reliable and ecologically sound mobility solutions and its equipment moves one billion people every day all over the world. In 2011, Schindler was named one of Forbes Magazine's 100 Most Innovative Companies, and two of the company's products received the 2011Architectural Products' Product Innovation Award. For additional information about Schindler Elevator Corporation, visit the company's Web site at http://www.us.schindler.com.
###