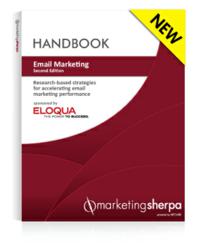 Random email marketing campaigns are no longer effective. Today organizations must be highly strategic to consistently produce high-quality messages. Our research has revealed that repeatable processes lead to relevant, reliable communications.
Jacksonville, FL (PRWEB) January 27, 2012
MarketingSherpa has released the second edition of its Email Marketing Handbook, sponsored by Eloqua, which compiles key email-marketing intelligence and best takeaways based on eight years of research. It explores how marketers can build a repeatable, yet agile, email-marketing strategy that meets customer expectations and earns their trust.
"Random email marketing campaigns are no longer effective. Today organizations must be highly strategic to consistently produce high-quality messages," says W. Jeffrey Rice, senior research analyst for MarketingSherpa and lead author of the Email Marketing Handbook. "Our research has revealed that repeatable processes lead to relevant, reliable communications."
This research is based on:

Surveys of more than 10,000 marketing professionals
Thousands of interviews with marketers to document successes and lessons learned
Frank conversations with attendees at hundreds of MarketingSherpa events, including workshops, summits and webinars
Thousands of split tests to determine which emails perform the best
The handbook outlines the evolution and influence of email marketing, while guiding readers through an analysis of their own email-marketing efforts. It details an iterative process to accelerate email marketing performance that directs readers to:
Identify impact and purpose. Readers will learn how to set goals and identify email's place in the sales-marketing funnel, and find out what CMOs really think of email-marketing's impact on their top business objectives. This is supported by research, case studies and detailed, actionable explanations on how to nurture, convert, retain and refer customers through email campaigns, and measure the results.
Integrate email marketing. Readers will find out the smartest approaches to combine email with other marketing tactics to increase conversion, share content and grow lists. They'll learn how social media has influenced email and how to best take advantage of this powerful combination through case studies, and top tactics to engage and convert smartphone and tablet users.
Create relevant content. Case studies and research reveal the three keys to creating relevant content: identifying internal resources and streamlining processes to churn it out consistently; analyzing and integrating data to identify opportunities to help customers, and establishing processes that ensure communications are sent out when they're most relevant.
Build lists that deliver. Ensuring emails reach their destination requires a stellar online reputation and an accurate list. This section outlines the processes, legalities and technology involved in building and keeping lists strong, and what to do if they aren't.
Test and optimize. This section reveals good news and bad news. The bad news is that most organizations don't routinely test and optimize email campaigns to improve performance. The good news is those that do will attain a sharp competitive edge. This section outlines standard testing protocols and methodologies, how to conduct a test, and what to test.
Learn more here: http://www.meclabs.com/training/publications/handbook/email-marketing-second-edition?9641.
Media Contact: Bethany Caudell, MECLABS, 1-800-517-5531.
About MarketingSherpa
MarketingSherpa publishes practical case studies, Benchmark Reports, exclusive research, how-to instructional materials and eight content-specific newsletters for more than 237,000 content, email, inbound marketing, search, B2B and consumer marketing professionals each week. In its tenth year, the marketing research publisher has been praised by The Economist, Harvard Business School's Working Knowledge Site and Entrepreneur.com. Along with MarketingExperiments and InTouch, MarketingSherpa is part of the MECLABS Group, which offers marketers practical research data and information, professional training and networking summits.
About Eloqua
Eloqua provides solutions to help its customers accelerate revenue growth through Revenue Performance Management. Eloqua provides powerful business insight to inform marketing and sales decisions today that drive revenue growth tomorrow. The company's mission is to make its customers the fastest growing companies on Earth. More than 1,000 clients rely on the marketing automation power of Eloqua to improve demand generation and lead management while driving more qualified leads. Eloqua's customers include Adobe, AON, Dow Jones, ADP, Fidelity, Polycom, and National Instruments. The company is headquartered in Vienna, Virginia, with offices in Cambridge, San Francisco, Austin, Toronto, London, Brussels, Frankfurt and Singapore. For more information, visit http://www.eloqua.com, subscribe to the It's All About Revenue blog, call 866-327-8764, or email demand(at)eloqua(dot)com.
###