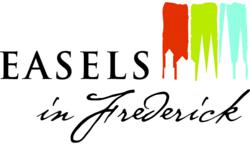 The Art Talk Café series is designed to educate, inspire, and promote discussions among collectors, artists, and anyone just curious about plein air painting and art.
Frederick, Maryland (PRWEB) January 25, 2012
Easels in Frederick announces the February launch of Art Talk Cafés in downtown Frederick, Maryland. Catch the spirit of plein air painting and get ready to enjoy the June 2012 Easels in Frederick event by attending this series of free casual art talks and workshops starting next month through June.
"The Art Talk Café series is designed to educate, inspire, and promote discussions among collectors, artists, and anyone just curious about plein air painting and art," said Carolyn Greiner, co-chair of Easels in Frederick.
The second annual Easels in Frederick, scheduled for June 20-24, provides 30 juried artists the opportunity to interpret Frederick's scenic historic district, vibrant downtown lifestyle and gracious homes on canvas and paper. The 2012 designated painting area will be larger, and a number of special events including Art Talk Cafes kick off this year's plein air season.
The series kicks off on Saturday, February 4, 2012 from 5:30 pm to 9:00 pm with Past and Present, at the Weinberg Center for the Arts located at 20 West Patrick Street. The Past and Present exhibit continues through February 29. Easels in Frederick and the Historical Society of Frederick County collaborate to present a free exhibit of area plein air artists' paintings of historic places in Frederick city and county alongside historic images of the same location. The past is indeed present during this first Café, complete with refreshments.
What's It Worth? is the title of the second Art Talk Café , set for March 25, 2-4:30 pm, at il Porto Restaurant, 200 South Market Street. Learn how the experts determine the value of a painting. Call ahead (details posted at http://www.easelsinfrederick.org nearer the event) and arrange to have your painting appraised. Chat with Robert and Carol Lewis, owners of Lewis and Clark Antiques in Frederick, to discover methods they use to appraise artwork. Then, learn how to protect your investment.
Mark your calendar for Saturday, April 14, 3-7:30 pm for Walt Bartman's Unique Approach to Seeing Color at the Frederick Visitor Center, 151 South East Street. The café begins with a plein air painting demonstration with artist and educator Walt Bartman followed by Bartman's compelling talk on color and art in the Visitor Center's auditorium.
See the Art Talk Café schedule below for the duration of the season and the topics chosen:
Event Schedule - Art Talk Cafes 2012
Thursday, April 26, 6:30 pm to 8:00 pm. Frame It!
Thursday, May 10, 1:00 pm. Hiu Lai Chong Presents
Saturday, May 19, 10:00 am-3:00 pm. Kids Paint Out and Plein Air Class
Sunday, May 20, 5:00-8:00 pm. Juried Young Artists Plein Air Show
June 2-3, All Day. Film on Plein Air
Saturday, June 9, 3:00 pm. Painting With Passion
June 1-30, All Day. Easels in Frederick Display of Plein Air Equipment and Supplies
Easels in Frederick is an all-volunteer committee working with The Delaplaine Arts Center to organize and manage the 2012 juried plein air painting competition. The Delaplaine is a 501(C)(3) nonprofit organization and all charitable contributions are tax deductible to the fullest extent allowed by law. The Delaplaine remains the only arts organization to have been certified under the Standards for Excellence in Nonprofit Management by the Maryland Association of Nonprofit Organizations. The Delaplaine provides the Frederick region with educational opportunities and experiences in the visual arts through classes, exhibits, and programs.
For additional information, visit http://www.easelsinfrederick.org or email easels(at)delaplaine(dot)org.
# # #