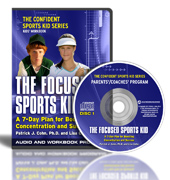 "Often, coaches and parents tell their kids, 'Get focused!' or 'Get your head in the game.' But what they don't tell kids is what they should be focusing on."
Portland, Oregon (PRWEB) January 26, 2012
"The Focused Sports Kid: A 7-Day Plan for Boosting Concentration and Success," now available from Peak Performance Sports and YouthSportsPsychology.com, teaches parents and their young athletes critical skills for improving kids' focus in sports and quickly refocusing after being derailed by common distractions that hurt kids' performance.
"Young athletes tell us that they get easily distracted by a number of things, including their parents' yelling on the sidelines, worrying if the coach is going to bench them, and wondering what others are thinking of their performance," says Dr. Patrick Cohn, a nationally recognized mental game expert and co-author, along with Lisa Cohn, of the program.
Parents and coaches often don't know how to help their athletes deal with these distractions, he says.
"Often, coaches and parents tell their kids, 'Get focused!' or 'Get your head in the game.' But what they don't tell kids is what they should be focusing on," he says.
"The Focused Sports Kid" begins by helping kids identify their "inner" and "outer" distractions. It teaches them what they should be focusing and provides strategies for re-focusing when they get distracted.
Parents, coaches and young athletes learn in "The Focused Sports Kid" how to identify sports-specific "performance cues," the thoughts, feelings, targets or images kids need to focus on in order to perform well. For example, before soccer players pass the ball, they might focus on seeing a teammate open for a pass. Or just before kids shoot a ball, they might focus on a target in the center of the goal.
With this program, parents, coaches, and their young athletes learn advanced strategies for helping sports kids "get in the zone" more often so they're totally immersed in the process of playing and perform at the top of their abilities.
The program includes a seven-lesson workbook and CD for young athletes, plus a manual and CD for parents and coaches. Parents and coaches learn how they might be distracting their sports kids and discover what they can do to boost young athletes' focusing skills.
The authors are a brother-sister team and co-founders of The Ultimate Sports Parent and Kids' Sports Psychology. They're the co-authors of a number of programs for parents and young athletes, including "The Ultimate Sports Parent," "The Confident Sports Kid," and "How Young Athletes Can Be Confident and Mentally Tough in the Face of Bullies."
Dr. Patrick Cohn is a sports psychology expert who has studied, researched, and worked with thousands of athletes for nearly two decades, including some of the top athletes in the world, including PGA Tour winners and NASCAR winners. He has appeared on CNN, Fox-TV, and The Golf Channel, and has been quoted by USA Today, ESPN, Sports Illustrated, Men's Health and other national publications.
Lisa Cohn is an award-winning parenting writer, seasoned sports mom and host of the podcast series Ultimate Sports Parent Radio, which has more than 150,000 subscribers. She has been quoted by the Associated Press, Washington Post, Christian Science Monitor, Seattle times and other publications.
To learn more about The Focused Sports Kid, click here: The Focused Sports Kid.
To read testimonials about other products, click on The Ultimate Sports Parent Blog.
For more information or to arrange interviews, email Lisa Cohn at cohnmerk(at)comcast(dot)net
###