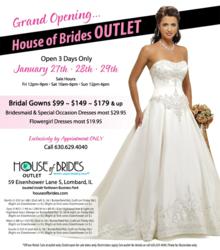 "We are thrilled with the response! Customers are going to be just as excited when they see the unbelievable discounts", states House of Brides President Eva Buziecki. "We have never offered a sale on this scale with these savings."
Lombard, Illinois (PRWEB) January 25, 2012
House of Brides expanded appointment availability after receiving an overwhelming response to the grand opening of the Outlet in Lombard, Illinois. The announcement was released Monday, January 23rd. By the end of the same day, appointments were reaching full bookings for all 3 days of the sale.
Increasing the appointments was necessary to accommodate the high customer demand. Front desk staff reported over 100 customers called before hours Wednesday to reserve a booking. With times limited for all 3 days, management decided to increase the availability immediately.
The retailer can now accept up to 500 appointments for Friday, Saturday and Sunday.
"We are thrilled with the response! Customers are going to be just as excited when they see the unbelievable discounts", states House of Brides President Eva Buziecki. "We have never offered a sale on this scale with these savings."
The Outlet is open 3 days only, January 27th, 28th and 29th. Sale hours are Friday 12pm – 9pm, Saturday 10am – 6pm and Sunday 12pm – 6pm. Appointments are now open all 3 days at various hours due to the increased availability.
Access to the sale is exclusively by appointment only. The retailer is limiting the number of appointments per hour with each appointment is 1-hour long. Limiting the number and duration of the appointments allows the staff to maintain the customer experience.
Sales consultants will be on-hand to assist customers. However, the consultants will help multiple customers at a time. The level of service will differ than in House of Brides 10 salons, which provide full-service with personalized sales consultants and ancillary staff.
The sale features savings on thousands and thousands of wedding and special event apparel. Wedding dresses are selling for $99, $149, $179 and up. Most bridesmaids are $29.95 and flowergirls start at $19.95.
Most special occasion dresses are $29.95. The selection includes Mother-of-the-Wedding, Engagement, Anniversary, Cocktail, Prom and Homecoming dresses.
Bridal headpieces, shoes, accessories and other products will also be on sale.
All apparel and products are for immediate purchase only. Special order is not available at the Outlet location. Likewise, the merchandise and savings are unique to the Outlet and not available at House of Brides salons. The sale is not offered at any of the retailer's other salons.
Cash debit and credit cards are accepted for payment.
Final preparations are underway at the location. Management will continue to analyze incoming appointments to ensure as many customers as possible are accommodated. President Eva Buziecki predicts, "If the appointments are any indication, we expect a great turnout all 3 days of the sale."
The Grand Opening of the Outlet is Friday January 27th, Saturday January 28th and Sunday January 29th. Sale hours are Friday 12pm – 9pm, Saturday 10am – 6pm and Sunday 12pm – 6pm. The sale is exclusively by appointment only. Walk-ins will not be accepted. Customers can call 630-629-4040 for an appointment.
For appointment and location information, view the Grand Opening ad http://www.houseofbrides.com/t-storesales.aspx.
About House of Brides:
House of Brides established its first brick-and-mortar store in 1929 and has since grown to 10 Chicagoland stores and global E-Commerce website, http://www.houseofbrides.com. Millions of Brides and their wedding parties visit the salons and global website for over 30,000 wedding and special event products.
###