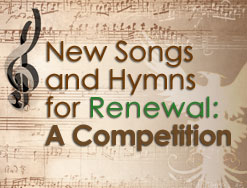 Dayton, OH (PRWEB) January 26, 2012
United Theological Seminary, Dayton, OH, is pleased to announce its first song and hymn-writing competition, "New Songs and Hymns for Renewal!" Composers and song writers are invited to submit songs and hymns with themes of church renewal or personal renewal. Cash prizes will be awarded and the winning compositions will be performed at United's Music Ministry Convocation in June of 2012.
"Several years ago," said United's President Dr. Wendy Deichmann, "United adopted as a prayer, a program and its tagline: Spirit Led, Renewing the Church! We hope that the new hymns and songs from this competition will help us celebrate the renewal that only God can give!
Submissions in three separate categories are required by April 20, 2012. Cash prizes will be awarded to winners after adjudication. For complete information, guidelines and application information, please click here or contact United's music director, Jeremy Winston at jwinston(at)united(dot)edu.
United Theological Seminary is a graduate professional school of The United Methodist Church that offers masters and doctoral theological degrees and continuing education with programs offered both on campus and online. United's goal is to educate dynamic, Spirit-led leaders who will renew the church for the mission and ministry of Jesus Christ in the world.
###