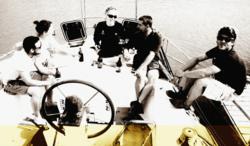 "Twenty years from now you will be more disappointed by the things you didn't do than by the ones you did do. So throw off your bowlines, sail away from the safe harbor. Catch the trade winds in your sails. Explore. Dream. Discover." Mark Twain
Winchester, CA (PRWEB) January 30, 2012
Some people say they never experience seasickness, airsickness or carsickness; but according to motion sickness expert Dr. Sam Puma, that is only because they avoid situations that might cause travel sickness symptoms. This is certainly not the case with a group of young South Africans who are facing head on the possibility of seasickness as they prepare to follow their dream to sail the world in their small yacht. These experienced sailors realize that although they already have a high tolerance to motion sickness, there may be situations, as they cross the open seas, that cause them to exceed that tolerance. Puma Applied Science understands their concern and is providing them with the solution: the Puma Method for Prevention of Motion Sickness.
The Puma Method consists of a series of mild head, neck and upper body exercises that stimulate the body's own mechanism, called habituation, to boost a person's tolerance to motion sickness causing activities. The exercises take only about 15 minutes a day. Conditioning starts right away and in as little as one week a person can begin to enjoy activities that used to make them feel ill. This new level of conditioning is automatically maintained as the individual participates in their new activities. The Puma Method exercises do not need to be continued unless a higher level of conditioning is desired. No matter what the current habituation level, the exercises can cause a significant increase in an individual's tolerance.
"We are very excited about the opportunity to participate in this around the world sailing adventure," commented Dr. Sam Puma, president of Puma Applied Science and developer of the Puma Method. "It has always been my hope that no one would have their activities or opportunities limited because of motion sickness, especially when pursuing a lifelong dream."
Those interested in learning more about all types of travel sickness and the Puma Method for Prevention of Motion Sickness can visit pumamethod.com. To learn more about the South African's around the world sailing adventure visit offtheline.co.za.
Founded in 1995 by Dr. Sam C. Puma, Puma Applied Science is a privately held research and development company specializing in aerospace medical concerns, human factors, and life support systems. It was through Dr. Puma's 36 years of experience as a physician in the aerospace industry that he developed and perfected his method for the prevention of motion sickness.
The company introduced the Puma Method for Prevention of Motion Sickness in 2003. Other projects under development are a high acceleration aircraft to gather data on gravity-induced loss of consciousness and an associated sensor, and a hands free computer interface for persons with disabilities.
###