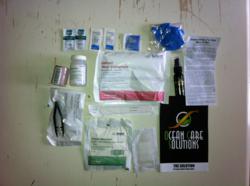 Our signature gold foil kits are water proof, light weight & medically supported with easy to follow 1st aid directions.
Houston, TX (PRWEB) January 30, 2012
Ocean Care Solutions is a company specializing in the development, distribution and sales of marine life first aid kit designed to meet medical and marine science first aid protocols for marine stings has appointed the TOLA Sales Group to market their full line of products in the Sunbelt states.
TOLA Sales Group is an established road rep agency covering the Sunbelt states and moving north. Presently with forty-nine (49) reps, TOLA can focus on many categories of accounts that vary in size from small independent retailers to regional and national chains. TOLA sales reps develop relationships and customers at the store level rather than at trade shows through their "neighborhood rep" concept that creates smaller, manageable territories calling on gift, c-store, grocery and other retailers. "Service to the retailers in their stores is where the business is in today's market", according to managing partner, Dan Thomas. While continuing to expand their market reach, plans call for the TOLA agency to be a national sales and marketing coverage agency by the end of 2012.
"Ocean Care Solutions selected the TOLA Group because their marketing philosophy allows the reps to sell to more types of accounts in a territory and improve interaction and relationships with customers," according to Kevin Freeman, CEO of Ocean Care Solutions. "We expect a higher frequency of sales calls to active accounts using the TOLA concept of offering more "value-added" customer service while providing a stronger rapport with our marine sting customers," added Freeman.
Ocean Care Solutions' offers a full line of marine sting first aid products, including their Portuguese Man o' War, Stingray, Sea Urchin and Fire Coral first aid kits as well as a specially formulated, 5% acetic acid Jellyfish Sting Relief Solution. Each product was rigorously tested to ensure delivery of the most effective, medically supported first aid. Each kit is fully equipped with every thing necessary to provide pain relief, water proof, light weight with very easy to use directions.
For more information, visit our site at http://www.oceancaresolutions.com. You can also find Ocean Care on Facebook at http://www.facebook.com/OceanCareSolutions.OCS.
###