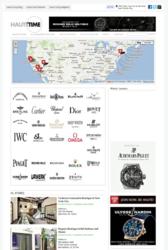 I started this to combat unauthorized dealers and used watch dealers
New York, New York (PRWEB) January 26, 2012
Haute Time, a watch-only site that caters to the most discerning watch aficionados, is under the Haute Living Inc. umbrella. Timepiece-savvy readers frequent the page to find the latest news, trend and collection updates from only the most trusted and innovative watch brands. Experts curate our weekly watch reviews, which often appear on page one of Google searches on luxury names including Patek Philippe, Audemars Piguet and Breguet.
With that, Haute Time is excited to announce the launch of its newest feature: the Watch Locator. This tool is built-in to the Haute Time page to connect savvy buyers to authorized dealers and boutiques selling luxury watch brands.
An interactive map pinpoints the locations of boutiques and retailers across the US, making it easy for buyers to find specific stores in different states. Each store has its own page showing its specific address, store information and brands featured. Over 25 watch brands are represented through the Watch Locator, including Richard Mille, Ulysse Nardin, Audemars Piguet, Piaget, Rolex and more.
"I started this to combat unauthorized dealers and used watch dealers," said Haute Time Publisher Seth Semilof. "They are doing a huge disservice to the watch industry, as when people Google most watches, these faulty sites appear on the first page, selling watches at 30-50 percent off."
The Watch Locator tool on HauteTime.com circumvents this problem, making purchasing easier on customers and giving luxury brands the patrons they deserve. "We are sending our watch readers to authorized dealers, and since most of our content appears on Google Page 1, we are going to deliver buyers to the brands," continued Semilof.
Access the locator today to find the luxury watch retailers in your area.
http://www.hautetime.com/?post_type=store-location
HauteTime.com is the ultimate resource for all things time, including the most recent happenings in the industry. Search by brand or release date to find specific information, and even sift through a digital copy of Haute Living Magazine to see which of your favorite pieces and brands were featured in the most recent issues. A trusted source, HauteTime.com is quickly becoming one of the top websites for luxury timepieces in excess of $10,000.
For more information, please visit http://www.hautetime.com.
###